Offshore Wind Turbines in 2022: 15 MW Prototypes Starting to Spin in Europe, Chinese Rolling Out 16 MW Models, Windcatcher and VAWTs Secure Demo Projects
Wind energy generation technology is one of the hottest topics on offshoreWIND.biz year after year and 2022 was no different. Over the past twelve months, various updates made headlines, from upgrades to existing platforms and rolling out new models to securing pilot projects for novel designs. Further below, you can find an overview of our most popular wind energy technology news.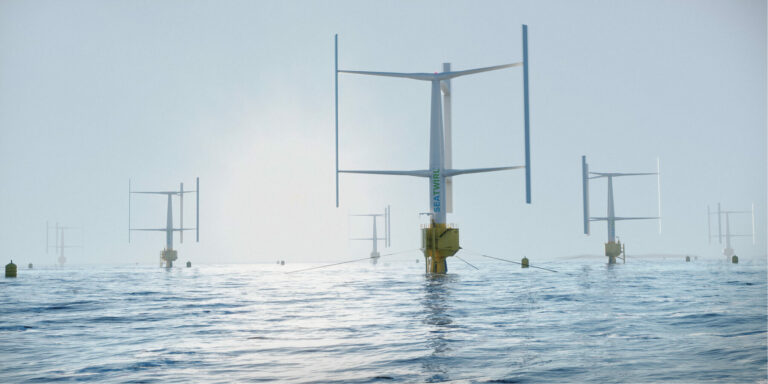 Before we move onto the 2022 overview, it might be worth noting that, when it comes to wind turbines, calls for standardisation from within the industry continue – and now more than ever, since the recently awarded development areas, upcoming auctions, increased national targets and new energy strategies, plans for streamlined permitting, and new offshore wind markets will require an unprecedented number of offshore wind turbines to be installed in a relatively short timespan.
Nevertheless, innovation and boosting capacity on existing platforms are not urged to be completely put on standby, especially since offshore wind farms beyond 2030 are planned to be of even bigger scale and linked to projects such as energy islands and large-scale green hydrogen productions plants.
To reach the 2030 and 2050 offshore wind targets across the world and thus help reach the ultimate, global net-zero goal for 2050, the industry needs to find a 'sweet spot' between the right amount of standardised offshore wind technology to build volume, platform upgrades to be able to take the next incremental steps towards higher output, and innovation to enable a more swift jump to next-generation technology.
In 2022, offshore wind developers submitted project plans to governments around the world, from the coastal EU Member States to the US and new markets such as Brazil. In many of these plans, 15 MW turbines are listed as go-to unit capacity.
Now in the prototype stage, 15 MW turbines were also the technology with most news coverage on offshoreWIND.biz in the last year, but we also saw models reaching beyond 15 MW launched in 2022, as well as interesting novel wind energy generation technology solutions introduced and new findings on vertical axis wind turbines (VAWTs).
Vestas V236-15.0 MW
At the end of December 2022, Vestas's V236-15.0 MW prototype turbine installed at the Østerild test centre for large wind turbines in Western Jutland, Denmark, produced first electricity.
The prototype stretches 280 metres into the air and has a production output of 80 GWh/year.
With a 236-metre rotor and 115.5-metre blades, the model has a swept area exceeding 43,000 square metres. One single V236-15.0 MW unit is capable of producing enough energy to power more than 20,000 households.
The turbine will make its offshore debut in 2024 at the Frederikshavn wind farm off Denmark and has been selected for a total of more than 8 GW in five different markets, including the US, Germany, Scotland, Poland.
Siemens Gamesa SG 14-236 DD
With the last days of December 2022, the 115-metre blades for the SG 14-236 DD offshore wind turbine left the factory in Aalborg to be installed on the prototype turbine in Østerild.
Based on Siemens Gamesa's existing SG 14-222 DD model, the new turbine with the 236-metre rotor will have a swept area of 43,500 square metres and will be able to reach a capacity of 15 MW.
The prototype is scheduled to be soon completed and the model will be commercially available in 2024.
So far, the SG 14-236 DD wind turbine has been selected as a preferred option for the Norfolk Vanguard and Boreas wind farms offshore the UK, as well as for the MFW Bałtyk II and MFW Bałtyk III wind farms in the Polish Baltic Sea.
GE Haliade-X 14.7 MW-220
GE Renewable Energy recently announced that it had received a full type certificate from DNV for its Haliade-X offshore wind turbine for operations up to 14.7 MW, making it the largest wind turbine with a full type certification.
The process of certifying the Haliade-X 14.7 MW-220 involved a series of tests on a prototype located at Maasvlakte at the Port of Rotterdam, the Netherlands, where the Haliade-X prototype has been tested and validated since 2019.
One GE Haliade-X 14.7 MW-220 offshore wind turbine can generate up to 76 GWh of gross annual energy production, providing enough clean energy to power the equivalent of 20,000 European households and save up to 53,000 metric tons of CO2, GE says.
The type certification will be applicable for the 87 14 MW turbines that will be used at Dogger Bank C, the third phase of the 3.6 GW Dogger Bank Wind Farm, for whose two first phases GE is also supplying turbines.
CTG/Goldwind 252-16 MW
In November 2022, China Three Gorges Corporation (CTG) and Goldwind Technology rolled out the first nacelle for a 16 MW offshore wind turbine the two jointly developed.
According to CTG, the model has the largest single capacity, the largest rotor diameter, and the lightest weight per megawatt in the world.
The model has a rotor diameter of 252 metres and a swept area of around 50,000 square metres, with a single unit capable of generating 34.2 kWh of electricity per revolution. According to the multi-year average power generation design value, a single unit will be able to produce more than 66 GWh of clean electricity per year.
The two partners are also working on a 13.6 MW turbine that will have a rotor diameter of 252 metres.
Mingyang Smart Energy MySE 16-260
Back in August 2021, Mingyang Smart Energy launched its MySE 16.0-242, said to be the world's largest Hybrid Drive wind turbine with a nameplate capacity of 16 MW.
In December 2022, Mingyang announced that it had completed production of the first blade for the MySE 16-260 offshore wind turbine, without specifying how long the new blade is, only that it was the largest anti-typhoon wind turbine blade in the world.
The company has not reported on an upgraded version of the 16 MW turbine since its introduction in August 2021, but it did on an upgrade to its 14 MW model, whose rotor diameter was enlarged from 242 metres to 260 metres.
With a rotor diameter of 260 metres, the MySE 16-260 offshore wind turbine will have a swept area of 53,902 square metres, capable of generating 67 GWh of electricity per year, according to Mingyang.
Wind Catching Systems
First introduced in the summer of 2021, Wind Catching Systems' technology received a EUR 2 million grant from Norwegian government's enterprise Enova in October 2022 for a pilot project that is planned to be installed at the Mehuken wind park on the Norwegian west coast this year.
The grant will support the design, construction and testing of an offshore wind turbine that the company plans to install in its floating multi-turbine structure named the Windcatcher.
The award of this funding came a few months after the US-headquartered automotive manufacturing corporation General Motors (GM) announced its decision to invest up to USD 10 million in Wind Catching Systems.
One Wind Catching unit is expected to have the same annual production as five conventional 15 MW offshore wind turbines.
SeaTwirl VAWTs
Swedish developer of floating vertical axis wind turbine (VAWT) technology, SeaTwirl, has been promoting the advantages of using VAWTs for several years now and recently published a white paper according to which the power density on offshore wind farms could be 'dramatically' increased by placing vertical axis wind turbines closer together.
In early 2022, the company was granted concession for an offshore site in Norway to install its 1 MW S2x vertical-shafted turbine with associated anchors and a cable for power transmission in Boknafjorden, northeast of Lauplandsholmen.
In September last year, SeaTwirl also entered into cooperation with the University of Tokyo to explore how to adapt SeaTwirl's floating wind technology to Japanese conditions.

ADVERTISE ON OFFSHOREWIND.BIZ
Get in front of your target audience in one move! OffshoreWIND.biz is read by thousands of offshore wind professionals daily.