Mingyang Produces 'World's Longest' Anti-Typhoon Offshore Wind Turbine Blade
Chinese wind turbine manufacturer Mingyang Smart Energy has completed production of the first blade for the MySE 16-260 offshore wind turbine, an upgraded version of its 16 MW model, announced last year with a 242-metre rotor diameter.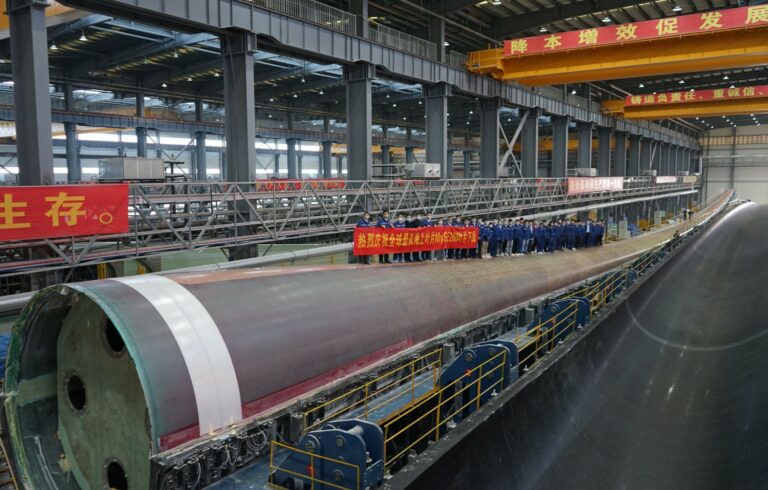 According to the company, the blade is setting a new record for the world's longest anti-typhoon blade following the 111.5-metre blade, Asia's longest, produced in June.
"The MySE260 blade underlines our innovation and modularization approach through using lightweight carbon-fibre materials, blade partitioning and aeroelastic tailoring technologies to provide safety, quality and reliability in typhoon operations", Mingyang said via social media.
With a rotor diameter of 260 metres, the MySE 16-260 offshore wind turbine will have a swept area of 53,902 m2, capable of generating 67 million kWh of electricity annually, which is enough to power 80,000 households, according to Mingyang, which produced the new blade at its factory in Shantou, Guangdong .
The 16 MW turbine was announced in August last year, when Mingyang presented its MySE 16-242 model.
The company has not reported on an upgraded version of the 16 MW turbine since then, but it did on an upgrade to its 14 MW model, whose rotor diameter was enlarged from 242 metres to 260 metres.
Last month, Mingyang announced it had won the bids from China General Nuclear Power Group (CGN) for two sections totaling 700 MW of the 1 GW Fanshiyi 1 offshore wind farm in Yangjiang, for which it will supply the upgraded 14 MW model.
Follow offshoreWIND.biz on: