Taiwanese Jacket Production Facility Shows Its Shape
The construction of the offshore wind foundation production site being developed in Taiwan by the Century Bladt Foundation joint venture is going according to schedule, Bladt reported.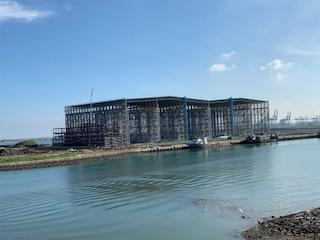 The company said that the construction work of the 31,000m2 production facilities and the 4,000m2 administration building is well underway and on the road towards completion in the coming year.
"I am sure this is going to become an exciting journey which will be able to contribute positively to the offshore wind in Taiwan," said Helle Schurmann Kragh, COO at Century Bladt Foundations, Taiwan.
"Never have I experienced a joint venture with so much speed ahead and with such a focus on establishing top modern production facilities from scratch. I believe that this will become one of the largest production facilities in Taiwan when it is up running."
To remind, Century Wind Power (CWP) and Bladt signed a Memorandum of Understanding in 2017 to cooperate on fabricating jacket foundations and outfitting transitions pieces for Taiwan's offshore wind market.
Last year, the two parties were selected as the preferred suppliers of jacket foundations for Copenhagen Infrastructure Partners' (CIP) three wind projects offshore Changhua, for which they will provide up to 150 pieces.
Shortly after, Bladt and CWP established the joint venture and agreed on the construction of the fabrication facilities in Taipei Harbor.