Global Marine Group Takes Delivery of New Osbit Plough
Osbit Limited has delivered a new multi-function pre-lay and backfill subsea plough to Global Marine Group, which will be used at the Kriegers Flak offshore wind farm in Denmark.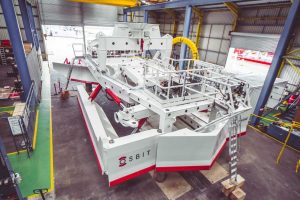 The PLP240 plough, ordered by Global Marine Group at the beginning of the year, underwent final assembly and sign-off at Osbit's Port of Blyth facility at the end of May.
Global Marine Group will use the new tool as part of the inter-array cable installation work at Vattenfall's Kriegers Flak project.
According to the company, the plough allows the reduction of offshore wind installation costs by minimizing project risks and combining operations to reduce the time required for installing subsea cables.
"Our new PLP240 will allow us to reduce the time to first power production by shortening the wind farm construction phase, and therefore delivering an earlier return on investment for our developer clients," said Martyn Drye, Director of Engineering at Global Marine Group.
"Through intelligent engineering alongside the Osbit team, we've created a versatile solution which integrates cable route preparation, cable laying and trenching – an industry first."
PLP240 offers single pass capability, which enables boulder clearance and pre-trenching up to 1.7m in a single run, Osbit said, adding that it features an extensive surveillance suite for trenching.
The plough is also said to be reconfigurable into backfill mode, which uses the same control and surveillance suite to monitor the cable and trench profile.
Following its completion, the plough will be officially launched by Global Marine Group at its Port of Blyth facility in early July.
Related news
List of related news articles