European Developers, Technology Companies Sign Up for First US Floating Wind Auction
The US Bureau of Ocean Energy Management (BOEM) has deemed 43 companies eligible to bid in the upcoming offshore wind lease sale in California, with the majority on the list being Europe-headquartered energy companies and floating wind technology developers, either as standalone entities or as part of joint ventures.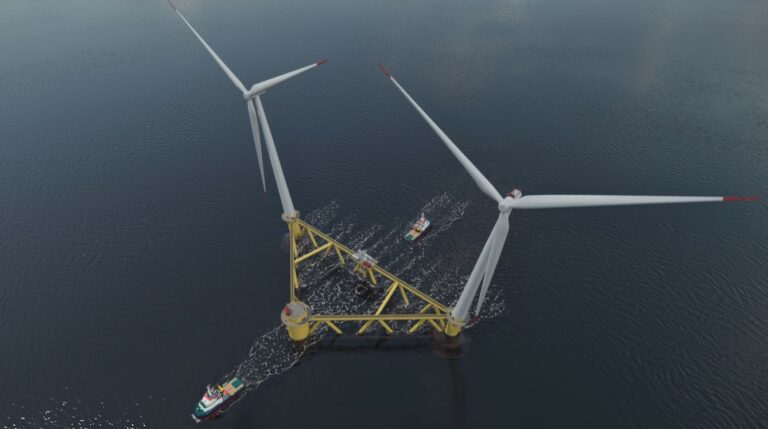 Acciona, Hexicon and BW Ideol eyeing Californian waters
SSE Renewables and Corio Generation join the list
TotalEnergies, CIP, RWE, Ørsted, and Equinor add more project companies
BOEM released the initial list this May in the Proposed Sale Notice (PSN) for the five areas offshore central and northern California.
The first 23 entities that qualified for the lease sale are:
547 Energy LLC (one of whose portfolio companies is Spanish BlueFloat Energy)
Algonquin Power Fund (America) Inc.
Arevia Power LLC
Avangrid Renewables, LLC (the US arm of Spain-based renewable energy giant Iberdrola)
Castle Wind LLC (a joint venture between Trident Winds Inc. and TotalEnergies)
Central California Offshore Wind LLC (Ocean Winds, a joint venture between EDPR and ENGIE)
Cademo Corporation (Floventis Energy, a joint venture between Cierco and SBM Offshore)
Clearway Renew LLC
EDF Renewables Development, Inc.
EDPR Offshore North America LLC
Equinor Wind US LLC
JERA Renewables NA, LLC
Marubeni Power International, Inc.
Mission Floating Wind LLC (Copenhagen Infrastructure Partners)
Northcoast Floating Wind LLC (Copenhagen Infrastructure Partners)
Northland Power America Inc.
Ørsted North America Inc.
Redwood Coast Energy Authority (RCEA) (with partners Principle Power, EDPR Offshore North America, and Aker Solutions)
Redwood Coast Offshore Wind LLC
RWE Renewables Development, LLC
Shell New Energies US LLC
US Mainstream Offshore, Inc.
wpd offshore Alpha, LLC
Acciona, Hexicon and BW Ideol Eyeing Californian Waters
The list of eligible companies in the Final Sale Notice, which adds 20 more names to the above list, now shows AEUG Offshore LLC as one of the potential bidders. According to information available online, the acronym AEUG is used by Acciona Energy USA Global LLC, the US entity of the Spanish renewable energy developer Acciona Energía.
Over the past year, Acciona emerged as a developer or co-developer behind several proposed floating wind farms in Europe and became the main shareholder in the floating wind technology company, Eolink.
The company has also developed two of its own floating foundation solutions, for which it says can be mass-produced and reduce manufacturing costs and carbon footprint.
Sweden-headquartered Hexicon, which also has proprietary floating wind technology, has signed up for the auction through its US-registered company Hexicon USA, LLC.
The floating technology developer recently secured a Contract for Difference (CfD) in the UK Round 4 offshore wind allocation for its TwinHub floating offshore wind project that will see Hexicon's TwinWind dual turbine floating foundation being deployed some 16 kilometres off the coast of Cornwall, England.
Aker Offshore Wind, now Mainstream Renewable Power, which was already listed as eligible, now joined through Pacific Moon Offshore Wind LLC.
The company also has its own floating technology as it holds majority stake in Principle Power, the developer of the WindFloat technology which was already installed in Portugal and Scotland and is planned to be installed on further projects in the UK, France and South Korea.
Ideol USA Inc., the US entity of the French floating foundation developer, BW Ideol, has also qualified to bid to install floating wind turbines offshore California, where the company has been developing its 40 MW+ pre-commercial floating wind project, planned to be built off Vandenberg Space Force Base (formerly Vandenberg Air Force Base).
The company is behind the Damping Pool technology, an in-house developed ring-shaped floating foundation which was installed as part of pilot projects offshore France and Japan.
The waters off Vandenberg Space Force Base are in the focus of the UK-based Floventis Energy as well. This joint venture between Cierco and SBM Offshore plans to build a 60 MW demonstration project named Cademo there.
The company, which qualified for the lease sale through Cademo Corporation, has now also qualified through Cierco Project Corporation. It is unknown at this time if the joint venture will bid for more than one project.
SSE Renewables and Corio Generation Join the List; Other Developers Add More Project Companies
Among the newly listed entities that BOEM qualified for bidding for the areas offshore California since May are also Scottish renewable energy developer SSE Renewables and the UK-based Corio Generation, a portfolio company of Macquarie's Green Investment Group (GIG) that is operating on a standalone basis.
Of the companies that were among the first 23 eligible bidders, either standalone or in joint ventures, several of them now have two or more project development companies signed up for the floating wind auction.
Danish developer Copenhagen Infrastructure Partners (CIP), which already qualified through two project companies earlier, now has two more entities on the list: California North Floating LLC and California South Floating LLC.
CIP's compatriot Ørsted has now also joined with another project company, GW Offshore Wind LLC, as has German RWE with RWE Offshore Wind Holdings, LLC.
French oil and gas player TotalEnergies, which qualified through the Castle Wind joint venture with Trident Winds, is now on the list both through Castle Wind and on its own, same as Equinor which has now qualified with Pacific Offshore Wind LLC.
Another French company, EDF Renewables, has now added two more project companies to the race: Seaglass Offshore Wind I, LLC and Seaglass Offshore Wind II, LLC.
Spanish BlueFloat Energy, one of portfolio companies of 547 Energy which made the list earlier this year, is now behind one more entity, California Offshore Wind Development LLC.
The list of oil companies that will potentially bid for building first floating wind farms in the US has also grown as BP now qualified as an eligible bidder, alongside Shell, Equinor, and TotalEnergies.
BOEM will open the lease sale on 6 December, when the developers will be offered five areas on the Outer Continental Shelf (OCS) off central and northern California that total approximately 373,268 acres.
The areas, located in the Morro Bay Wind Energy Area and Humboldt Wind Energy Area, have the potential to accommodate over 4.5 GW of offshore wind installed capacity, which could power more than 1.5 million homes.
Follow offshoreWIND.biz on: