Ocean Winds, Aker Offshore Wind Move Forward with Floating Project in Korea
Korea Floating Wind (KF Wind), a joint venture between Ocean Winds and Aker Offshore Wind, has obtained its first Electric Business License (EBL) from the Ministry of Trade, Industry and Energy of the Republic of Korea for a capacity of 870 MW for its floating wind project in Ulsan.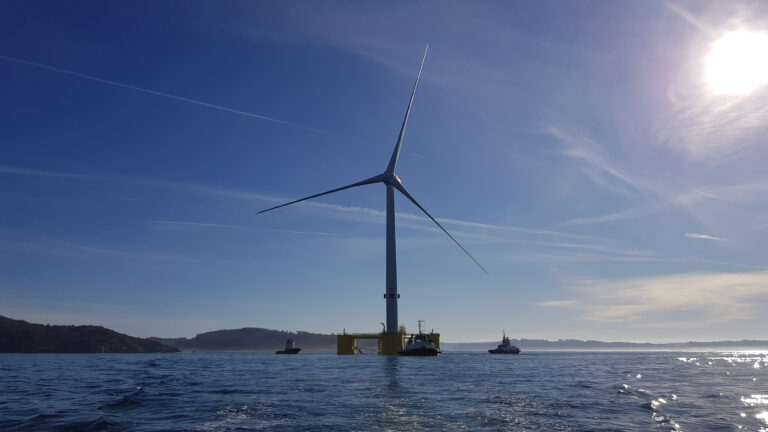 The EBL is a mandatory requirement to generate and supply electricity in South Korea and grants KF Wind exclusive development rights to realise the project.
The joint venture partners said receiving this license was a key step toward building what will be part of the largest and first commercial-scale floating wind farm in the world. KF Wind, which plans to install 1.2 GW of floating wind power offshore Ulsan, expects the second EBL to follow for a capacity of 450 MW and plans to reach financial close on the 1.2 GW development in 2024.
"Securing the EBL will allow KF Wind to continue with its investment plan and to create local jobs in South Korea. We will continue our cooperative work with all stakeholders, including local fishermen and organizations, to make this project a reality", said Guzman Figar, Project Director of KF Wind.
"Our proven floating technology from Principle Power will enable a faster industrialization of the supply chain to deliver with our partners in South Korea the job creation associated with the first large commercial scale floating windfarm," said Philippe Kavafyan, Chief Executive Officer of Aker Offshore Wind.
With the capacity of 1.2 GW, KF Wind's project can supply electricity for the equivalent of over 1.3 million households and reduce the equivalent of nearly 3 million tonnes of greenhouse gas emissions every year, according to Ocean Winds' Chief Operating Officer.
"Ocean Winds is very proud to contribute to South Korea's important commitments in terms of clean energy production and environmental protection. Thanks to the commitment of our teams and the relationships built within the region, the emission of the EBL represents one step closer to our goal of 1.2 GW projects in Ulsan, powering the equivalent of over 1.3 million households and reducing nearly 3 million tCO2eq greenhouse gas emissions every year. An undeniable breakthrough for Ocean Winds, for KF Wind and for South Korea", said Grzegorz Gorski, Chief Operating Officer of Ocean Winds.
EDP Renewables, which established Ocean Winds together with Engie, and Aker Solutions invested in the development company Korea Floating Wind Power (KF Wind) back in 2019, when they joined the founding shareholder WindPower Korea. Now, Ocean Winds and Aker Offshore Wind hold 66.7 per cent and 33.3 per cent of the company, respectively.
At the beginning of that year, KF Wind signed a Memorandum of Understanding with the City of Ulsan to cooperate on the development of floating wind projects and support the industrial development of the Ulsan region to serve as a manufacturing hub for domestic and export offshore wind markets.
KF Wind has secured three potential wind sites off the City of Ulsan, which could potentially accommodate floating wind farms with a combined capacity of up to 1.5 GW.
Principle Power's technology, which the KF Wind joint venture plans to utilise in its projects, is the deepwater offshore floating wind turbine foundation called WindFloat, which has been deployed for off the coasts of Portugal and Scotland and is part of several projects under construction and development.
Aker Offshore Wind holds a 47 per cent stake in Principle Power, with other shareholders 47% ownership stake of Principle Power, with other shareholders being EDPR, EDP Ventures, and Tokyo Gas.
Follow offshoreWIND.biz on: