DEME Installs XXL Monopiles at Arcadis Ost 1
DEME Offshore has completed the installation of the final XXL monopile at the 257 MW Arcadis Ost 1 offshore wind farm in the German Baltic Sea.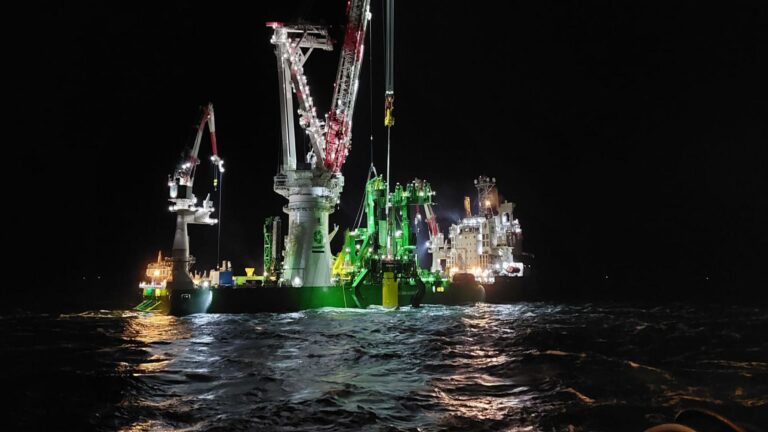 This was the first project executed by DEME's new floating installation vessel, Orion, which installed the foundations using its DP3 system.
Manufactured by Steelwind in Germany, the 28 XXL monopiles are the largest monopile foundations ever installed, DEME said, weighing more than 2,000 tonnes each, with a diameter of 9.5 metres and a length of up to 110 metres.
The first monopile, the one which carries the wind farm's substation topside, was installed last month.
Orion ran on LNG during the installation campaign and is equipped with a 5,000-tonne crane and a tailor-made, motion compensated gripper able to handle XXL monopile foundations.
The integrated motion compensated pile gripper tool enables the crew to upend and drive the monopiles, which are transported horizontally on deck.
Coupled with the vessels' DP3 capability, the gripper keeps the monopile vertical and stable despite waves and vessels motions, according to DEME.
In addition, an entire set of new specialist tools were used during this maiden project for Orion such as an adjustable monopile sea fastening system, a newly-built automated monopile lifting spreader beam to enable the horizontal lifting of the XXL monopiles, automated quick-lifting tools to avoid manual handling on deck, as well as several new noise mitigation systems, DEME said.
"We are extremely thrilled to see 'Orion' and her motion compensated pile gripper doing what the vessel has been created for, installing huge monopiles in extreme circumstances. This pushes the boundaries of the offshore wind industry over the horizon and shows that DEME's smart solutions and equipment are ready for the next generation of foundations and wind turbines", said Hugo Buovy, Managing Director of DEME Offshore.
Arcadis Ost 1 offshore wind farm will feature 27 V174-9.5 MW wind turbines that will be installed later this year via a new method based on using a floating installation vessel to assemble the turbine components, which will be located onboard the deck, as well as a dummy tower.
Once fully commissioned in 2023, the wind farm is expected to provide enough electricity to cover the needs of up to 300,000 German households.
Belgium's Parkwind is the owner and developer of Arcadis Ost 1.
Follow offshoreWIND.biz on: