Orion Ready to Install XXL Monopiles at Arcadis Ost 1
The installation of 28 XXL monopiles for 27 wind turbines and one substation of the Arcadis Ost 1 offshore wind farm is about to begin as DEME Offshore's installation vessel Orion has arrived at the Port of Roenne, the project's storage and marshaling port.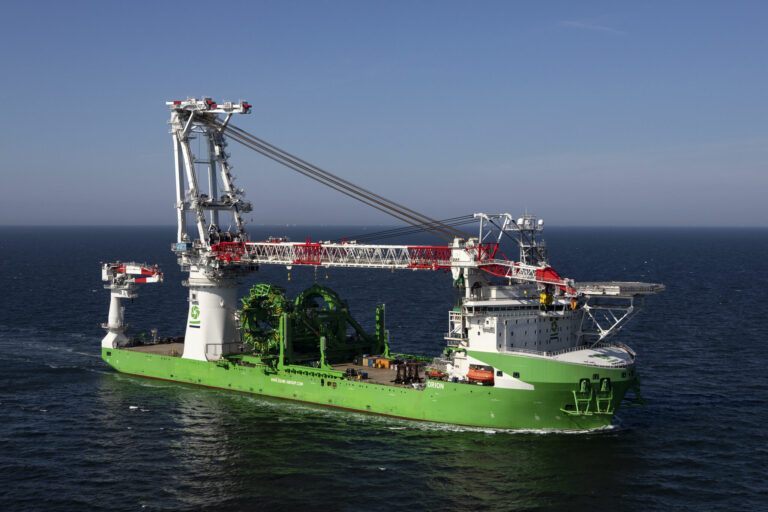 According to available AIS data, Orion arrived at the port this weekend.
This is the first time DEME's new installation vessel will be deployed on a project, following its delivery and officially joining the company's fleet at the beginning of this month.
This is also the first time DEME Offshore will install monopiles of this size, according to the Port of Roenne.
Manufactured by Steelwind in Germany, the foundations have a length of 110 metres, a diameter of 10 metres, and a weight of over 2,000 tonnes each.
In January, DEME selected the Port of Roenne as the storage and marshaling hub for the project's 28 foundations which will soon be shipped to the northeast of the German island of Rügen where Arcadis Ost 1 offshore wind farm is located.
The turbine installation is set to take place in early June 2022 via a new method based on using a floating installation vessel to assemble the turbine components, which will be located onboard the deck, as well as a dummy tower.
Once fully commissioned in 2023, the wind farm's 27 Vestas V174-9.5 MW turbines will provide enough electricity to cover the needs of up to 300,000 German households.
Belgium's Parkwind is the owner and developer of Arcadis Ost 1.
Follow offshoreWIND.biz on: