Arcadis Ost 1 First to Use Floating Turbine Installation Method
Parkwind, MHI Vestas and Heerema Marine Contractors (HMC) will utilize a new floating turbine installation method on the Arcadis Ost 1 offshore wind farm, an industry's first.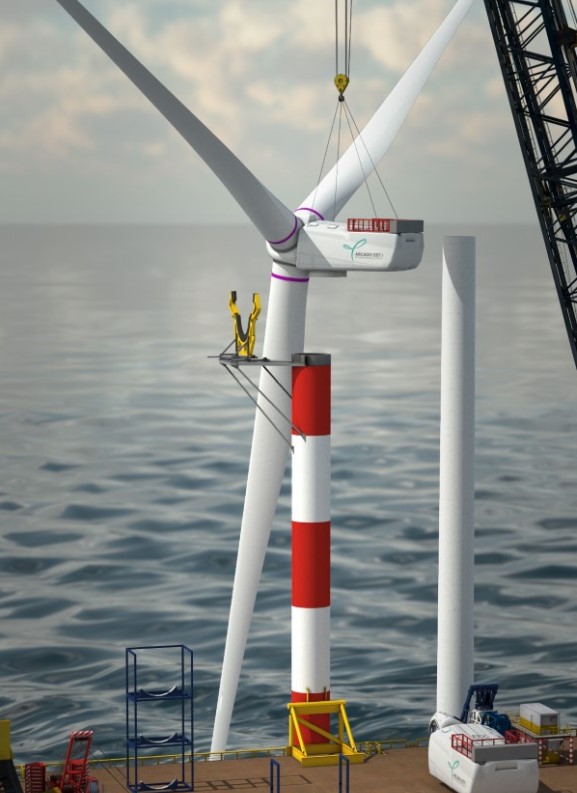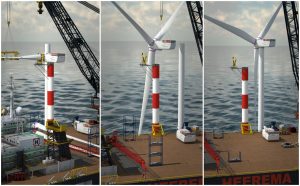 The revolutionary construction methodology is based on using a floating installation vessel to assemble the turbine components, which will be located onboard the deck, as well as a dummy tower.
The first step will be lifting the turbine tower onto the pre-installed turbine foundation, after which the nacelle will be lifted onto the dummy tower and the blades will be attached.
This floating installation method was developed as the three parties looked at possible alternatives to traditional installation methodologies due to challenging soil conditions at the project site.
"More than one year ago, Heerema Marine Contractors, together with our partners MHI Vestas and Parkwind, started an intensive research to find out the possibilities of installing turbines utilizing our fleet of floating assets," said Koos-Jan van Brouwershaven, CEO of Heerema Marine Contractors.
"In our Simulation Center, we created an authentic visualization of the local situation, including crane and vessel controls, realistic weather conditions, sea swell patterns and sea bed conditions. This collaboration led to an innovative method which will be used for the installation of turbines in the Arcadis Ost 1 wind park."
According to MHI Vestas, this process ensures full control over the blades thus guaranteeing a safe and reliable blade assembly. After the Rotor Nacelle Assembly (RNA) on the installation vessel, the complete RNA will be lifted as one piece onto the tower.
This installation method avoids all interaction with the soil thereby reducing the project's risk compared to a traditional jack-up installation, also allowing reduced installation time, the company said.
Arcadis Ost 1 will comprise 27 MHI Vestas V174-9.5MW turbines located approximately 19km northeast of the island Rügen in Germany. The 257MW offshore wind farm will be the first to feature this MHI Vestas model.