Boskalis' Taiwan Debutant to Go Into Service in Early 2022
The conversion of Boskalis' Bokalift 2 crane vessel is expected to be completed in the coming months, after which its new crane will be installed, allowing the vessel to enter service on Taiwan's Changfang & Xidao offshore wind project in early 2022, according to an update in the company's half-year report.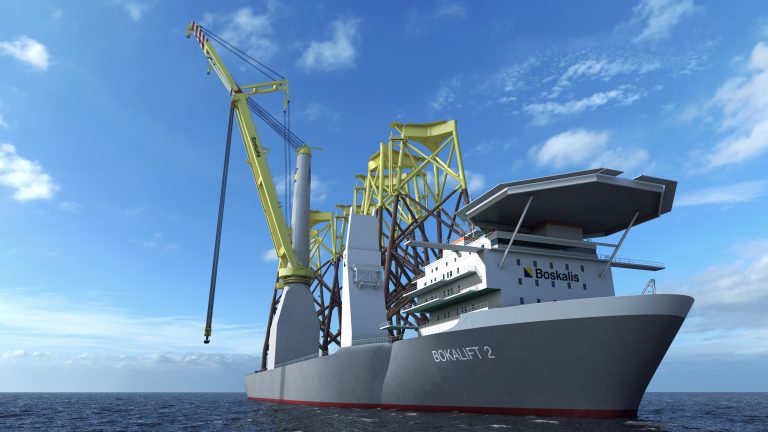 In October 2019, the vessel was announced to be deployed for the first time on the 589 MW Changfang and Xidao to transport and install the project's 62 jacket foundations and the accompanying 186 pin piles. However, as offshore construction at the project site started in early July of this year, the Bokalift 1 vessel came into play.
During the first foundation installation campaign, Bokalift 1 installed 48 pin piles and will also install the corresponding 16 three-legged jacket foundations, after which the vessel will wrap up the 2021 installation campaign.
Since Boskalis said in August that the remaining 138 pin piles and 46 jackets were scheduled to be installed in 2022, it is now expected that Bokalift 2 would take over once the construction work resumes next year.
Boskalis is converting the existing drillship YAN into Bokalift 2 at the Dubai-based Drydocks World, where work on this project started in May 2020. The conversion scope includes the fabrication and installation of 9,000 tonnes of steel blocks on both sides of the vessel to increase its stability, as well as the installation of a new work deck.
Upon completion, the vessel will have 7,500 square metres of free deck space and a new 4,000-tonne revolving crane capable of lifting structures more than 100 metres high.
The DP2 vessel, capable of accommodating 150 persons, will be used for the installation of current and future generation offshore wind turbine foundations, as well as oil and gas structures, Boskalis said when it announced that the new vessel would debut at the Changfang & Xidao project.
The Dutch company was contracted to carry out the work in the Taiwanese offshore wind farm in a joint venture with Taiwan's Hwa Chi Construction Co., established in July 2019.
The 589 MW Changfang and Xidao, owned by Copenhagen Infrastructure Partners (CIP) and two Taiwanese life insurance companies, is being built at a site 15 kilometres off the coast of Changhua County.