Taiwanese Jacket Production Workshop Shaping Up
Century Bladt Foundations' offshore wind foundation production workshop in Taiwan is shaping up, according to Bladt's recent post.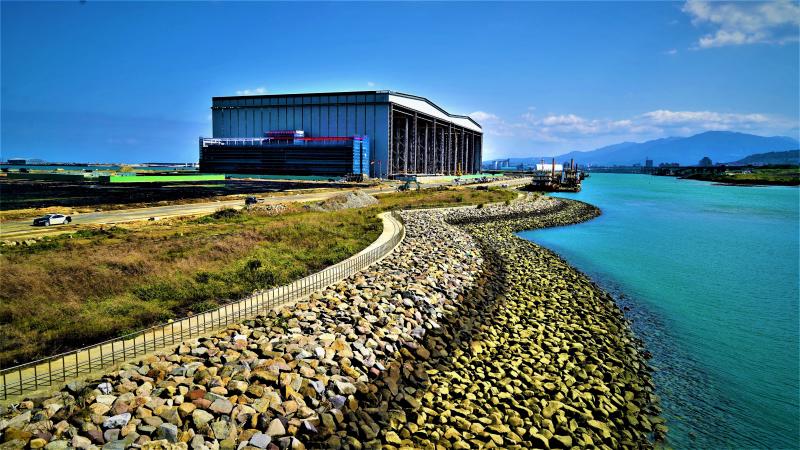 The 33,000m2 workshop will soon be finished and ready for the installation of cranes and equipment, the Danish company reported.
A 4,000m2 administration building, canteens to host 400 employees, 3,000m2 warehouse facilities and 9ha of outdoor storage are also under construction.
According to Bladt, the welding school is up running and can train 60 welders at the time in both manual and automatic welding techniques.
To remind, Century Wind Power (CWP) and Bladt signed a Memorandum of Understanding in 2017 to cooperate on fabricating jacket foundations and outfitting transitions pieces for Taiwan's offshore wind market.
A year later, the parties were selected as the preferred suppliers of jacket foundations for Copenhagen Infrastructure Partners' (CIP) three wind projects offshore Changhua, for which they will provide up to 150 pieces.
Bladt and CWP shortly after established the joint venture and agreed on the construction of the fabrication facilities in Taipei Harbor.
"It is impressive, how two companies with different backgrounds can join forces and within relatively short time establish a 33,000 m2 brand new workshop along with new quay facilities, administration buildings and storage facilities," said Helle Schurmann Kragh, COO for Century Bladt Foundations.
The joint venture plans to begin the production of 62 foundations for the Changfang and Xidao offshore wind project ultimo 2020. The construction on the 589MW project began recently.