Oleg Strashnov to Install Merkur OSS Jacket
Seaway Heavy Lifting's vessel Oleg Strashnov is currently at the Merkur offshore wind farm site as the vessel is deployed on installing the jacket foundation for the Merkur offshore substation. According to vessel's AIS data, Oleg Strahnov has arrived at the site on Sunday, 8 October.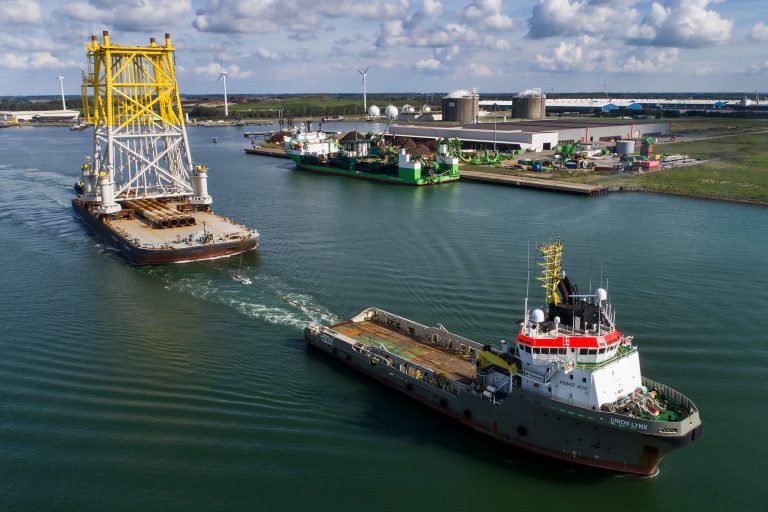 The jacket for the offshore substation left Eemshaven also on Sunday to be towed to the construction site in the German part of the North Sea, our sister site Maritiem Nieuws reported on 9 October referring to Eemshavenonline.nl.
The joint venture between Engie Fabricom-Tractebel and Iemants was awarded the contract for the offshore substation and associated jacket for the 396MW Merkur offshore wind project. The 1,700-tonne jacket was loaded out from Iemants yard in the Netherlands on 5 September, while Engie Fabricom had been working on the final assembly of the substation at its yard in Belgium at that time.
As soon as the weather permits, Oleg Strashnov will install the jacket at the Merkur site, located some 45 kilometres north of the island of Borkum.
The vessel had been installing jacket foundations at the Beatrice offshore wind farm in the UK before it left the site to work on the Merkur project. Seaway Heavy Lifting's vessel Stanislav Yudin will re-mobilise for the foundation installation at Beatrice as soon as it completes the piling work at the wind farm.
Offshore WIND Staff