Beatrice Offshore Construction Kicks Off
Seaway Heavy Lifting (SHL) will begin installing piles for jacket foundations at the Beatrice offshore wind farm on 27 March. The work will be carried out by the heavy lift vessel Stanislav Yudin, recently equipped with NAMI's purpose built 700-tonne Pile Installation Frame (PIF).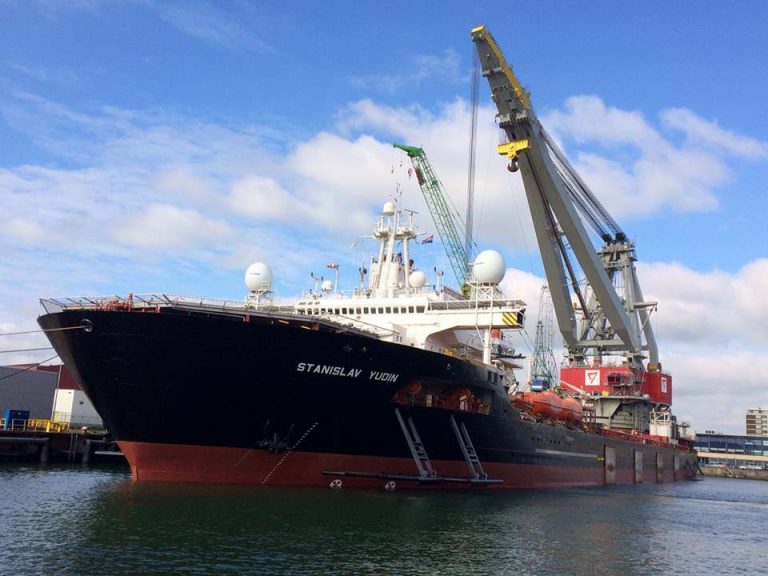 The piles will be delivered by a cargo barge from the manufacturing site directly to the installation vessel at the offshore construction site, where they will be lifted and transferred to Stanislav Yudin's deck. At a wind turbine location, each of the four piles for a jacket foundation will then be lifted, upended, lowered into the PIF and vibro-piled to settle the piles into the PIF in advance of the piling, done by a piling hammer.
Prior to driving the piles into the seabed, the team undertaking the works at the Beatrice site will implement the Piling Mitigation Protocol, which includes the deployment of the Acoustic Deterrence Device (ADD) and a soft start piling procedure.
In preparation for the Beatrice works, SHL had also teamed up with IHC IQIP for the delivery of jacket pile grippers, the Hydrohammer S-2500 with two specially designed hammer sleeves, and an internal lifting tool.
The development, manufacturing, and installation of a piling instrumentation and control system for the Pile Installation Frame (PIF) was done by Seatools.
The Beatrice jacket foundations are being produced by Smulders, Bladt and BiFab.
Seaway Heavy Lifting, as of recently a wholly-owned subsidiary of Subsea 7, won the EPCI contract for foundations and array cables jointly with its now mother company. The two companies are in charge of project management, designing, engineering, fabricating and installing jacket foundations and array cables for 84 Siemens 7MW wind turbines, as well as transporting and installing the offshore transmission modules.
The 588MW wind farm – developed by a joint venture partnership between SSE (40%), Copenhagen Infrastructure Partners (35%) and Red Rock Power Ltd. (25%) – is expected to become fully operational in 2019.
Offshore WIND Staff