IHC IQIP Equipping SHL for Beatrice Foundation Installation
IHC IQIP will provide jacket pile grippers, the Hydrohammer S-2500 with two specially designed hammer sleeves, and an internal lifting tool to Seaway Heavy Lifting (SHL), the EPCI contractor in charge of foundations for the Beatrice project.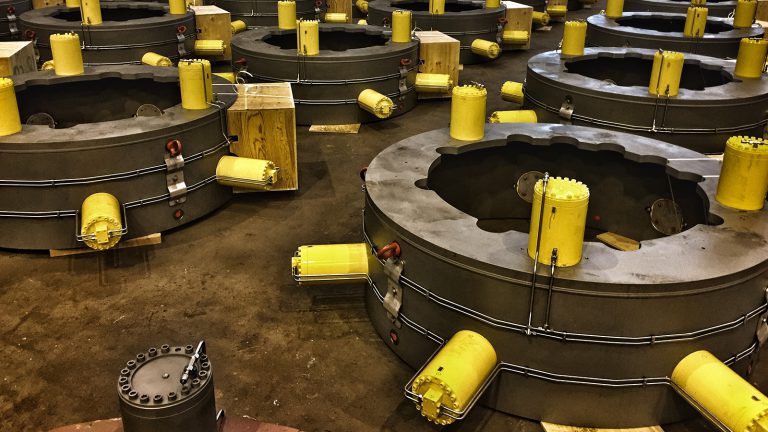 The 588MW Beatrice offshore wind farm, situated off the north coast of Scotland, will comprise 84 Siemens SWT-7.0-154 turbines founded on pre-piled jacket substructures, to be installed in water depths of up to 55m.
SHL will use the equipment from or developed together with IHC IQIP. "The cooperation on this project has resulted in improving existing equipment concepts having a positive impact on the installation methodology for both foundation piles and jackets," IHC IQIP said.
For the Beatrice jacket foundations – produced by Smulders, Bladt and BiFab – IHC IQIP is supplying the jacket pile grippers (JPGs), which will prevent relative displacement between jacket structure and pre-installed piles during grouting and curing. The JPGs are welded to the jacket structures at the jacket fabrication sites.
Production of the JPGs at IHC IQIP's yard in Sliedrecht has already commenced and delivery to the jacket fabrication yards has started, with the last delivery scheduled for early 2018. For the 84 jackets to be fabricated, a total of 336 JPGs will be delivered and commissioned.
Furthermore, SHL will use the Hydrohammer S-2500 and its specially designed hammer sleeves, suitable for driving piles up to a minimum stick-up height of 2m. The newly-developed sleeves – combined with the retractable spacers inside the sleeves of the pre-piling template – have been designed to drive piles without using a large follower resulting in a significant reduction in required deck storage space and handling of heavy equipment, according to IHC IQIP.
Also, the Beatrice project will see the company's 1,200t internal lifting tool (ILT) being used for deploying and recovery of the pre-piling template and subsequently for stabbing of the individual piles into the sleeves of the pre-piling template. At a later phase, the same ILT will be used for jacket installation.
The pre-piling template will enable installing piles at the precise location, the appropriate inclination and stick-up height prior to installing the jacket.
SHL and IQIP jointly developed pre-piling template up to the basic design level. IHC IQIP provided the solution to avoid the use of followers by incorporating spacers in the template. These can be retracted during pile-driving to create enough space for the hammer and sleeve ensuring no follower is required, improving both efficiency and accuracy of the pile installation process significantly, IHC IQIP said. The detailed design, procurement and fabrication has been done by SHL.