Seaway Heavy Lifting Gearing Up for Beatrice Work
Monday 6 March saw the delivery of the purpose built 700 tonne Pile Installation Frame (PIF) to the Rhenus Logistics Facility in Rotterdam, ahead of deployment to the 588MW Beatrice offshore wind farm site in Outer Moray Firth, Scotland.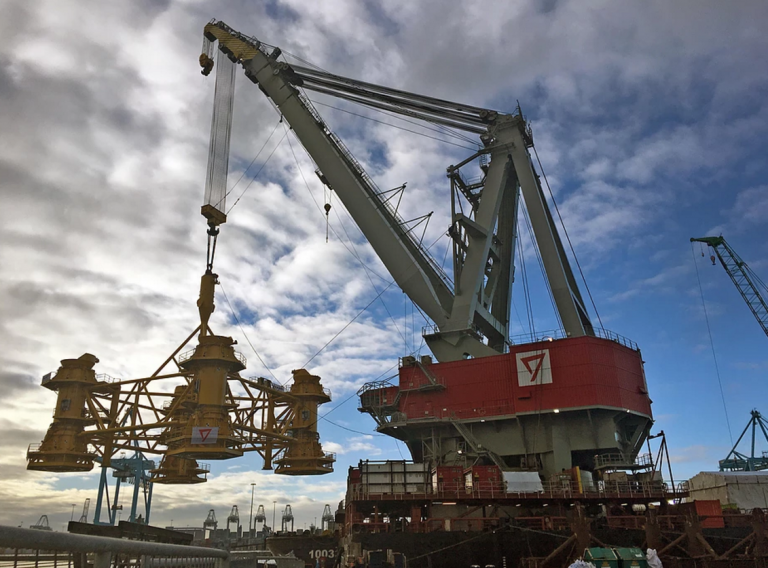 The PIF, manufactured by Seaway Heavy Lifting's subcontractor NAMI, was lifted from the NAMI facility by the sheerleg crane vessel Matador 3.
After being transported by a barge along the Maas river to Rhenus, the PIF was offloaded to the quayside by the 2,500 tonne capacity crane aboard the Seaway Heavy Lifting's vessel Stanislav Yudin.
The PIF and the Stanislav Yudin will undergo a series of integration tests over the next two weeks before mobilising to begin offshore construction work at the beginning of April.
The lifting and transporting operations were witnessed by Mwaves Limited, a marine warranty surveyor appointed by Beatrice Offshore Wind Farm Limited (BOWL), a joint venture partnership between SSE (40%), Copenhagen Infrastructure Partners (35%) and Red Rock Power Ltd. (25%).
Seaway Heavy Lifting and Subsea 7 jointly won a GBP 1.3 billion engineering, procurement, construction and installation (EPCI) contract for wind farm turbine foundations and array cables to be installed at the wind farm.
The two companies are tasked with project management, designing, engineering, fabricating and installing jacket foundations and array cables for 84 Siemens 7MW wind turbines, as well as transporting and installing the offshore transmission modules.
The offshore construction works at the site are scheduled to start in 2017. The wind farm is expected to become fully operational in 2019.