Highlights of the Month: September 2016
Areva has decided to sell its 50% stake in the offshore wind turbine manufacturer Adwen for EUR 60 million to Gamesa, with which Areva had a 50-50 ownership in the joint venture and which is now in a merger process with Siemens.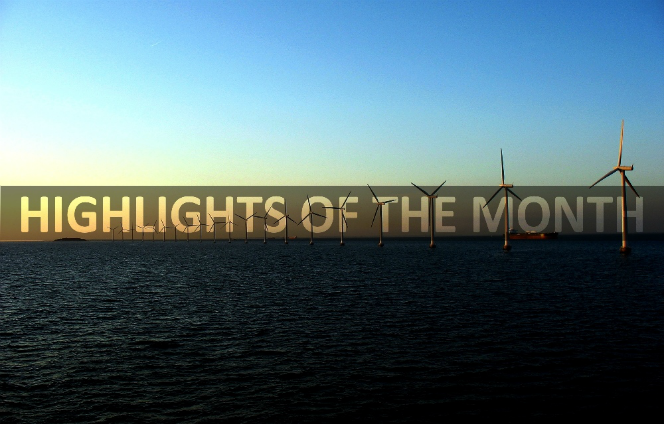 Royal Dutch Shell is considering bidding at the upcoming Dutch tender for 680MW Borssele III and IV offshore wind sites, according to Reuters.
Vattenfall has won the Danish nearshore wind tender after submitting the final bid for Vesterhav Syd and Vesterhav Nord sites on 1 September and offering the lowest bid of 0,475 kr/kWh.
DEME Group's new multi-purpose vessel Living Stone was launched yesterday at the LaNaval shipyard in Spain by Sarah Tommelein, wife of Bart Tommelein, Vice-Minister-President of the Government of Flanders and Flemish Minister for Energy.
The first of 32 MHI Vestas 8MW wind turbines has been installed at the Burbo Bank Extension offshore wind farm. The turbines are the largest in the world and this is the first time they have ever been used in an offshore wind farm, DONG Energy said.
A Bremen-based company, OWP Gennaker GmbH, proposes to set up a new offshore wind farm in Germany, which would be located in the Baltic Sea and would comprise 103 Siemens SWT-8.0-154 turbines with Power Boost that will increase the maximum rated output of the turbines to 8.4MW.
The charter of A2SEA's M/V Torben ended on 15 August without the company's crew being able to complete the installation of two foundations and two Siemens 4MW turbines at the Formosa 1 pilot project in Taiwan.
Following today's media reports on Navantia and Windar Renovables being awarded foundations construction contract for the 714MW East Anglia ONE project in the UK, Navantia issued a press release this evening, revealing the contract value of more than EUR 120 million and the number of foundations that it will supply for the project, together with its compatriot Windar.
DONG Energy has revealed plans for a GBP multi-million investment in Grimsby to create the UK's largest offshore wind operations and maintenance hub.
Adwen and Winergy have presented the jointly developed gearbox for Adwen's AD 8-180 offshore wind turbine which, with an input torque of close to 10,000 kilonewton-meters (kNm) and a weight of 86 tonnes, is the largest wind turbine gearbox ever built in the world.
Offshore WIND Staff