World's Second-Largest SSCV Enters Baltic Sea as Offshore Wind Duty Calls
Heerema Marine Contractors' crane vessel Thialf has crossed the Storebaelt Bridge and entered the Baltic Sea as the vessel is being deployed to install the offshore substation at the Baltic Eagle offshore wind farm and wind turbines at at the Arcadis Ost 1 offshore wind farm, both in Germany.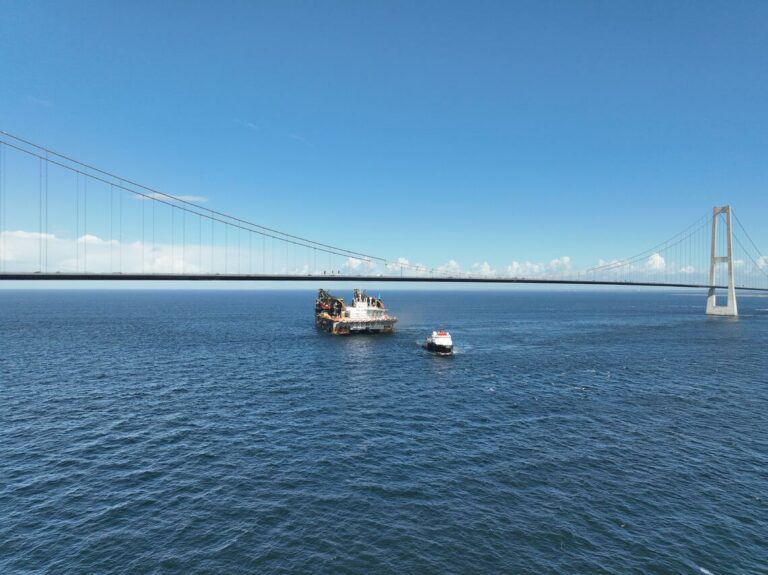 Thialf's passage under the Storebaelt Bridge, known as the "gate to the Baltic Sea", is the first time a Heerema crane vessel has accessed the region, the company said.
The bridge, also known as Swan, connects the Danish islands of Zealand and Funen and has a clearance of 65 metres, while the distance from Thialf's floaters to the top of the vessel's A-frames was 105 metres.
Therefore, this world's second-largest semi-submersible crane vessel (SSCV) underwent crane alterations which enabled it to reach the total air draught of just under 65 metres with the A-frames down while ballasted down to its maximum draught.
The modifications to the vessel's A-frames were done in the Port of Rotterdam during the winter of 2021/2022 and were possible since the A-frames already had hingable corners that can accommodate the NOV custom-designed semi-permanent adjustment system, according to Heerema.
Thialf's lifting capacity is unchanged, with the vessel capable of lifting 14,200 metric tons.
In the Port of Rotterdam, Heerema was also working on enabling Thialf, as well as Sleipnir (the world's largest SSCV), to use shore power while moored to reduce emissions.
At the Baltic Eagle project site, the vessel will install the offshore substation under a contract with Iberdrola from May 2021.
The substation will be made up of a foundation and a topside housing the transformers as well as electrical equipment. The four-legged steel jacket foundation weighs approximately 2,900 tonnes and will be fastened with two hammered piles at each leg. The topside consists of a closed multi-storey module of 5 decks with a total estimated net weight of around 4,250 tonnes.
The joint venture Iemants-Fabricom is manufacturing all structural elements of the substation and Siemens Gas and Power is responsible for the delivery of all main electrical equipment for the substation's low-voltage part.
According to the project information from earlier this year, all central components of the 476 MW Baltic Eagle will be installed on site in 2023, with commissioning scheduled for 2024.
On the Arcadis Ost 1 offshore wind farm, Thialf will install the project's 27 Vestas 9.5 MW wind turbines using Heerema's novel Rotor Nacelle Assembly (RNA) installation method for the first time.
The method involves assembling and installing XXL wind turbines onboard a floating, dynamically positioned (DP) vessel and was tested in the Dutch North Sea last year onboard the crane vessel Sleipnir.
Follow offshoreWIND.biz on: