Local Manufacturer to Deliver Biggest Jacket Foundations to Be Built in Taiwan
CSBC-DEME Wind Engineering (CDWE) has selected Century Iron & Steel Industrial (CIS) and Century Wind Power (CWP) as the preferred suppliers of jacket foundations, including transition pieces, for the 300 MW Hail Long 2A offshore wind farm in Taiwan.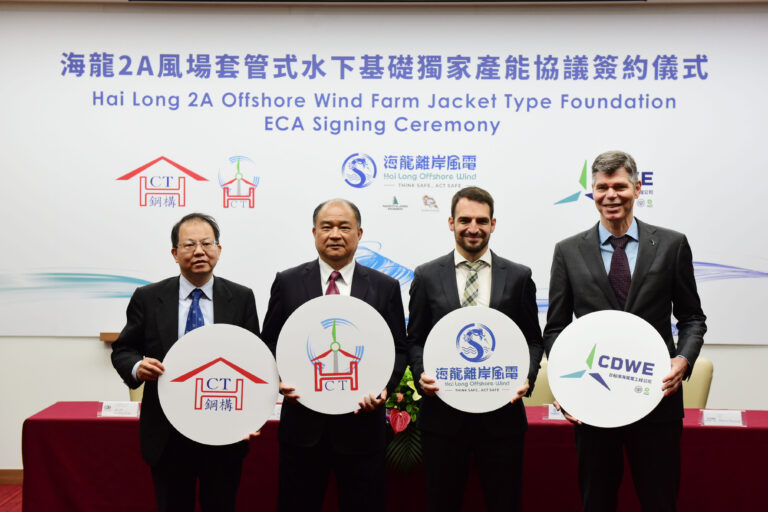 For the project, which is bound by localisation requirements, CIS and CWP will deliver 21 three-legged jacket foundations to the Hai Long 2A project in 2024.
According to Hai Long Offshore Wind – a consortium comprising Northland Power, Yushan Energy, and Mitsui & Co. – the jacket foundations to be supplied for the 300 MW offshore wind farm are the largest offshore wind turbine foundation to ever be built in Taiwan.
The jackets, which will measure up to 94 metres in height and weigh up to 2,000 tonnes together with all supporting equipment, will support the 14 MW wind turbines from Siemens Gamesa.
In May last year, CDWE signed a preferred supplier agreement with CSBC for the fabrication and delivery of pin piles for the jacket foundations for Hai Long 2A.
The agreement with CIS and CWP comes after two and a half years of evaluation of potential suppliers, including technical capabilities, track records, business conditions, contract terms, and the certified quality management and HSE system, according to Hai Long Offshore Wind.
The Hai Long project will be built around 50 kilometres off Taiwan's coast, in water depths of up to 55 metres, and will be one of the largest offshore wind developments in Taiwan with a total capacity of more than 1 GW across three phases.
Along with 300 MW at Hai Long 2A, the development also includes the 232 MW Hai Long 2B and the 512 MW Hai Long 3, all of which will feature 14 MW turbines from the preferred supplier Siemens Gamesa.
Jacket foundations for Hai Long 2B and Hai Long 3 will be delivered by South Korea's Samkang M&T and their pin piles by EEW Korea.
With the abovementioned preferred supplier agreements in place, Hai Long has nearly completed the selection of preferred suppliers for all the main construction contracts and is well on track for achieving financial close and entering the construction phase in the second half of the year, Hai Long Offshore Wind said.
Follow offshoreWIND.biz on: