Samkang M&T Wins EUR 426 Million Offshore Wind Contract
CSBC-DEME Wind Engineering (CDWE) has selected South Korea's Samkang M&T to manufacture and deliver the jacket foundations for the Hai Long 2b and Hai Long 3 offshore wind farms in Taiwan.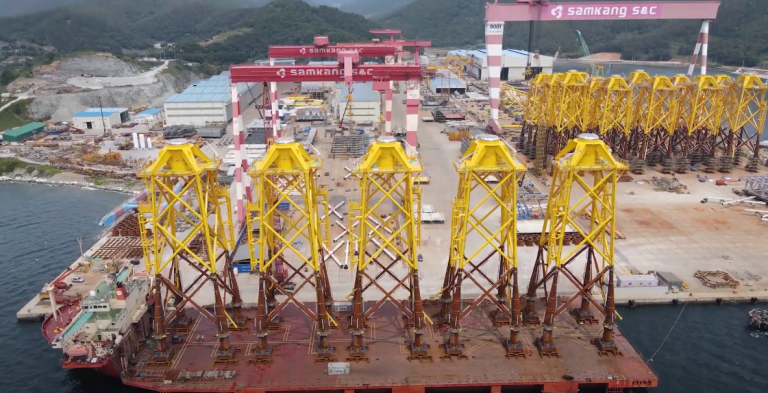 Under the Exclusivity Capacity Agreement (ECA), Samkang M&T will produce and deliver a total of 52 jacket foundations for the two wind farms.
The delivery of the jackets is expected to be completed by December 2024. The value of the contract is around EUR 426 million.
Hai Long Offshore Wind, a consortium comprising the Canada-based independent power producer Northland Power Inc., Yushan Energy Pte., Ltd., and Mitsui & Co., Ltd. is developing the Hai Long project in three stages, with construction expected to begin in 2023 and commissioning in 2025.
Three separate grid allocations include the 300 MW Hai Long 2a, the 232MW Hai Long 2b, and the 512 MW Hai Long 3.
The jacket foundations will support Siemens Gamesa SG 14-222 DD wind turbines.
CDWE, Taiwan's first offshore wind EPCI contractor, is the Balance of Plant (BoP) contractor for the Hai Long 2 and 3 offshore wind projects.
The pin piles for Hai Long 2b and Hai Long 3 will be produced by EEW Korean Heavy Pipe Construction, and CSBC will provide the pin piles for Hai Long 2a.
The Hai Long wind farm will be built around 50 kilometres off Taiwan's coast, in water depths of up to 55 metres, and the foundations are specifically tailored to the characteristics of Taiwan's seabed and Hai Long wind farm conditions, CDWE said.
Samkang previously delivered jacket foundations for the 21-turbine TPC Phase 1 wind farm in Taiwan, and has since also been selected by Ørsted to manufacture and deliver 28 jackets for the Greater Changhua 1 & 2a poject, also in Taiwan.