Sing Da Marine Structure (SDMS) has completed the first 100 per cent made-in-Taiwan wind turbine jacket foundation for the 900 MW Greater Changhua 1 & 2a offshore wind farms, Ørsted said.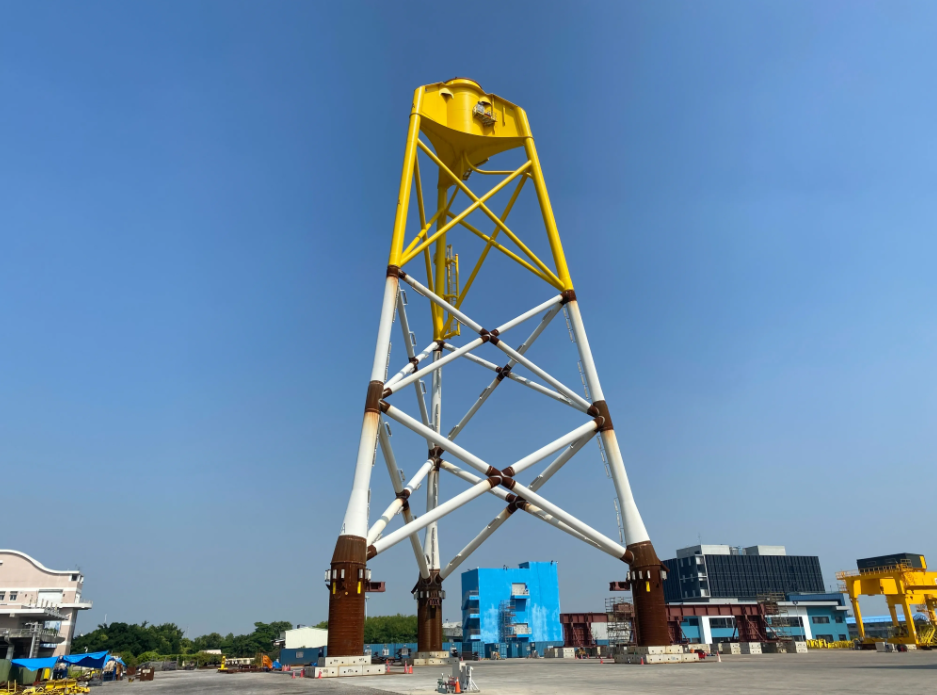 The jacket foundation, which has passed all inspections, signified a landmark milestone for Ørsted in Asia Pacific in building local capabilities from zero experience to manufacturing offshore wind heavy steel components, meeting global offshore wind quality, health, safety, and environment (QHSE) standards, the developer said.
"We are delighted to see the first wind turbine jacket foundation delivered by our new supplier SDMS, which has gradually ramped up its capabilities and QHSE standards from scratch over the past three years," Christy Wang, General Manager of Ørsted Taiwan, said.
"This is a remarkable journey for Ørsted, SDMS, and local sub-suppliers, working hand-in-hand to achieve this milestone. The next step will be for SDMS to repeat this success and achieve serial fabrication on a large scale. Ørsted is moving full speed ahead with constructing the Greater Changhua 1 & 2a Offshore Wind Farms and is scheduled to install the 100% Taiwan-made jacket foundations early next year."
Each wind turbine jacket foundation weighs more than 1,200 tons with a height of approximately 60-80 metres, and comprises of more than a thousand components. The jacket foundations are custom designed to meet the special weather and seabed conditions for the Greater Changhua 1 & 2a wind farms to ensure that they can last for at least 25-30 years.
Ørsted has committed more than double the usual manpower stationed at the Sing Da site to support the Kaohsiung-based supplier. Over the past three years, a total of 150,000 plus hours and significant resources from Ørsted in Europe and the APAC region have been dedicated to assisting SDMS in becoming a qualified offshore wind supplier, the developer said.
The two companies also cooperated on the delivery of Taiwan's first locally made transition piece mock-up in September 2019.
Moreover, Ørsted has shared the responsibility of the Tier 1 supplier SDMS, dispatching experts to coach its large chain of 22 local sub- suppliers working at 30 different sites to train their high-level welders. In addition, more than 30 workshops were tailor-made for SDMS to learn about the complex and intricate structure of jacket foundations, to establish the fabrication procedure, systematic quality assessment, and control processes in line with global QHSE standards, as well as to gain understanding related to managing large-scale projects and preparing documentation.
The Changhua 1 and 2a offshore wind farms will comprise a total of 111 Siemens Gamesa 8 MW turbines.
The offshore construction will be carried out during 2021 and 2022, with the project expected to be fully up and running in 2022.
The 605 MW Greater Changhua 1 wind farm is owned by Ørsted (50 per cent), and a consortium comprising Caisse de dépôt et placement du Québec (CDPQ) and the Taiwanese private equity fund, Cathay PE (50 per cent).
The 295 MW Changhua 2a is owned solely by Ørsted.