First Steel Cut for Taiwanese Gem
CSBC-DEME Wind Engineering (CDWE) has held a steel cutting ceremony for Green Jade, the first Taiwan-built floating heavy-lift offshore wind installation vessel.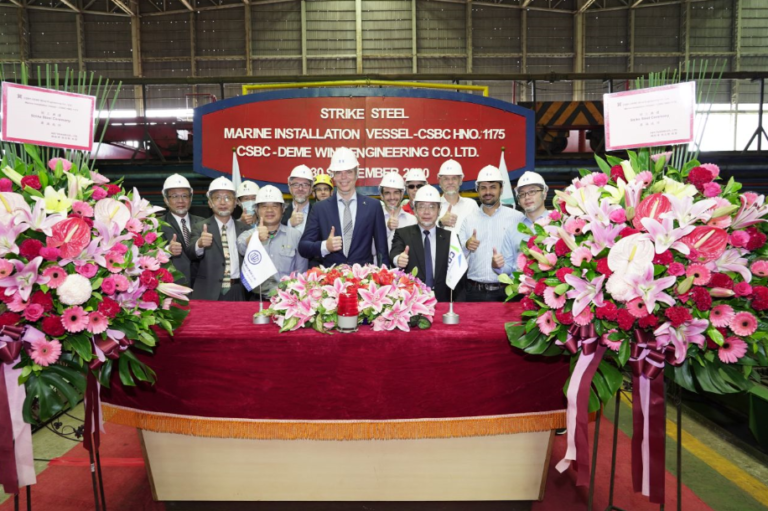 CDWE, a joint venture of DEME Offshore and Taiwanese shipbuilder CSBC, informed in April that it had initiated the contract for early works and ordering of critical packages.
A few months later, the final investment decision (FID) for the vessel construction was reached.
Green Jade is being built at CSBC in Kaohsiung and is scheduled to be delivered in 2022.
Once in service, the 216.5-meter vessel will be deployed on the Hai Long and Zhong Neng offshore wind projects in Taiwan.
"The fact that the first steel cutting of Green Jade is perfectly on schedule once again demonstrates the keen focus of CDWE and CSBC to accomplish the smooth delivery of 'Green Jade' by the fourth quarter of 2022," said Wen-Lon Cheng, Chairman of CSBC.
"Both teams have put a tremendous amount of effort into the early preparation stages to make sure the vessel is delivered successfully – from the engineering tasks through to the dedicated project management system and intensive communication and interaction among all stakeholders, including the system and equipment vendors, classification societies and flag state authority etc."
Green Jade will be equipped with a 4,000t Huisman crane, DP3 capability, dual-fuel engines, and will be able to accommodate up to 160 people.
The vessel will have a large deck space to enable transport and installation of multiple massive next-generation foundations and wind turbines in a single shipment, the joint venture said.