Siemens Gamesa Establishes New Offshore Wind Cooperation in Taiwan
Siemens Gamesa has signed a Memorandum of Understanding (MoU) with Yeong Guan Energy Technology Group (YGG) to collaborate on the development of an offshore wind supply chain in Taiwan.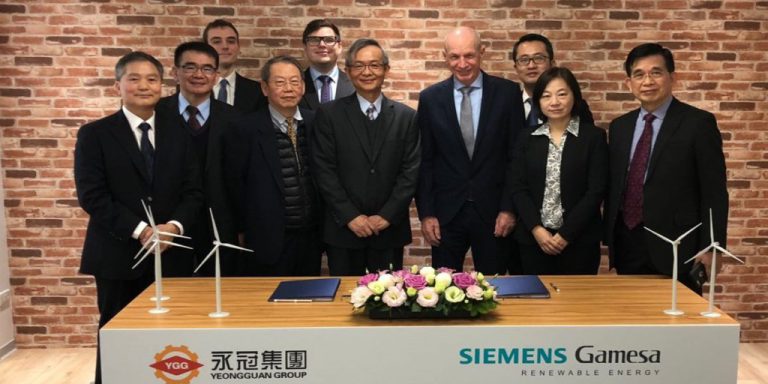 Under the terms of the non-binding MoU, YGG will be investigating the establishment of a foundry, machining and painting facilities at the Taichung Harbor in Taiwan.
Siemens Gamesa will provide advice and support with regards to compliance to offshore wind quality and HSE standards, as well as for YGG to become a competitive supplier for offshore wind in the Asia Pacific (APAC).
According to Siemens Gamesa, the agreement marks another step towards the development of the Taichung Harbor for offshore wind activities, for which the company signed a MoU with Taiwan International Ports Corporation (TIPC) last year.
"The Taichung Harbor is a choice location, close to Changhua County, off of which the majority of the zones defined by the Taiwanese government for offshore wind projects are found," said Rainer Mueller-Wallenborn, Head of Offshore Procurement at Siemens Gamesa Renewable Energy.
"As we stated in December 2017, there are over 10 GW of projects under planning overall in Taiwan according to official information. We therefore believe the Taichung Harbor has the potential to become a regional hub for the industry, and we are very happy to reinforce our commitment to its development with YGG."
A timeline has not been set for the finalization of the MoU, the company said.
In December 2017, Siemens Gamesa opened an office in Taipei to serve as its regional offshore wind hub in the APAC region, excluding mainland China.
The company was also part of Taiwan's first offshore wind power plant, having delivered the first two operational offshore wind turbines at the first phase of the 8MW Formosa 1 project.
"The promising potential of the Taiwanese offshore market combined with our positive experience with the government has encouraged us to intensify our efforts. We are convinced that this emerging market offers interesting business opportunities," said Andreas Nauen, CEO Offshore at Siemens Gamesa.