Oleg Strashnov Gets Back to Beatrice After Merkur OSS Gig
Seaway Heavy Lifting's (SHL) vessel Oleg Strashnov has returned to the Beatrice project after having installed the substation topside at the Merkur offshore wind farm site in German part of the North Sea.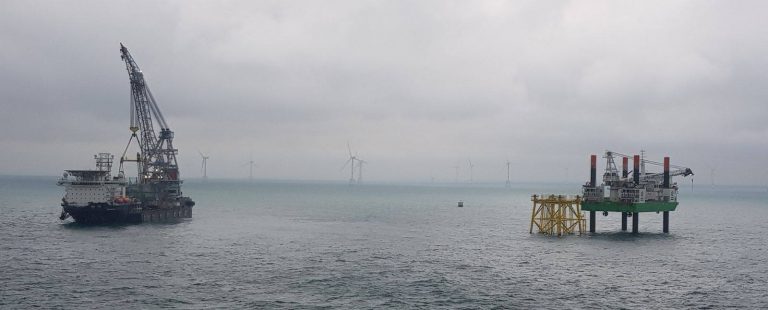 The vessel's AIS shows Oleg Strashnov is now at the Invergordon port in the UK. There, it has joined its sister vessel Stanislav Yudin, which will remain on standby while Oleg Strashnov will re-mobilise and continue the jacket foundation installation campaign at the Beatrice offshore wind farm, according to BOWL's latest Notice to Mariners.
So far, 34 jackets have been placed at their respective locations at the Beatrice site, meaning the SHL vessel duo has 52 more to install. Namely, along with 84 Siemens 7MW turbines, the project will comprise two Siemens Offshore Transformer Modules (OTMs), also be placed on top of jacket foundations.
Meanwhile, the cable laying vessel Siem Aimery, supported by CSV Siem Stingray, has laid and trenched 16 inter-array cables in its first campaign covering 24 connections. The vessels have left the site and will resume works around 1 March 2018.
The first wind turbines at the 588MW Beatrice offshore wind farm are scheduled to be installed in summer 2018, with the wind farm expected to be commissioned by the end of 2019.
Offshore WIND Staff