Windea Leibniz SOV Turns into CSOV to Serve Baltic and North Sea Offshore Wind Farms
The Service Operation Vessel (SOV) Windea Leibniz has completed an extensive upgrade at Ulstein Verft in Norway and will be deployed with a status as a Commissioning Service Operation Vessel (CSOV).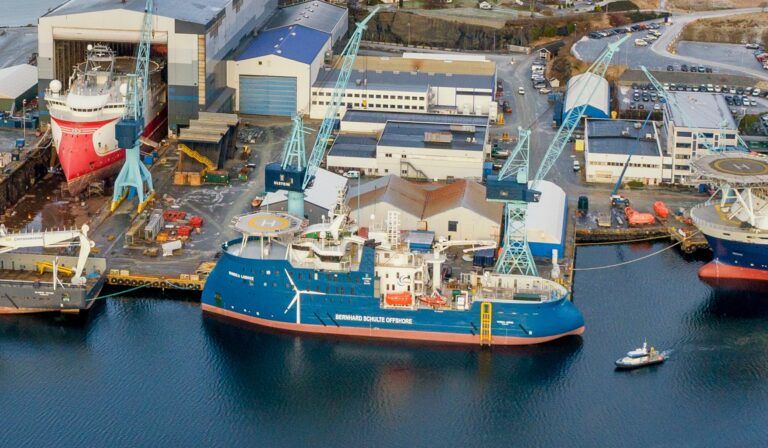 The number of crew cabins was increased and the ship received one extra pedestal on the stern for Baltic Sea operations to complement the existing pedestal for North Sea use.
The upgrade included a 50 per cent increase in accommodation capacities on board. Therefore, reconstruction measures including shifting of the changing/drying rooms, conference rooms, and day rooms were executed.
In total, the cabin capacity was increased from 63 to 81 cabins. Now Windea Leibniz, the second SOV ordered by Bernhard Schulte Offshore and ICBC Leasing from Ulstein, can accommodate up to 85 technical staff for wind farms, service personnel, and crew.
The second major milestone was the installation of a new height-adjustable pedestal for the motion-compensating gangway, which should make the 88-metre-long vessel more flexible in offshore wind farms, Ulstein said. Now the gangway can operate in a range between 17.5 metres and 23 metres height above the waterline when fully extended.
The third milestone focused on the installation of a second pedestal for the gangway at the stern. It should enable Windea Leibniz to also sail in offshore wind farms in the Baltic Sea where service platforms are generally lower located than in the North Sea.
"There is no uniform standard for the height of the platforms in North Sea wind farms. After the yard stay, we can now vary the height of our gangway. With the Baltic pedestal at the stern, we can easily switch our gangway from the North Sea height to the lower Baltic Sea height, which makes us even more flexible when working in different wind farm regions", said Rainer Mueller, Captain on the Windea Leibniz.
The upgrade of Windea Leibniz was timed perfectly as European governments want to expand renewable energy capacities in the Baltic and North Sea, according to Bernhard Schulte Shipmanagement (BSM).
Last year, the EU had a capacity of approximately 15 GW in offshore wind power production, said BSM. Germany alone is aiming to double their capacities by 2030.
According to the German government, this equals an expansion of offshore wind energy to at least 30 GW by 2030, with at least 40 GW of installed capacity by 2035 and at least 70 GW by 2045.

ADVERTISE ON OFFSHOREWIND.BIZ
Get in front of your target audience in one move! OffshoreWIND.biz is read by thousands of offshore wind professionals daily.
Follow offshoreWIND.biz on: