Ørsted and CIP Partner on 5.2 GW of Offshore Wind in Denmark, Plan Power-to-X Production
Ørsted and Copenhagen Infrastructure Partners (CIP) are entering into a 50/50 partnership to develop four large-scale offshore wind projects under the 'open door' scheme in Denmark. The projects are planned to include Power-to-X capabilities and to be built before or in parallel with the projects selected through the government tenders.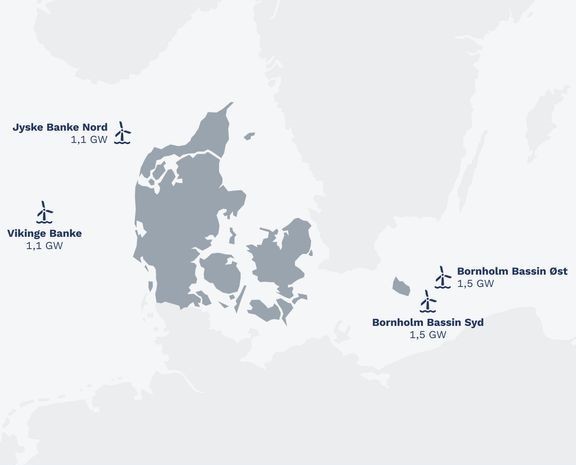 The partners plan to develop two offshore wind farms in the North Sea, 1.1 GW Vikinge Banke and 1.1 GW Jyske Banke Nord, and two in the Baltic Sea, 1.5 GW Bornholm Bassin Syd and 1.5 GW Bornholm Basin Øst.
The projects are said to be built and operated without government subsidies.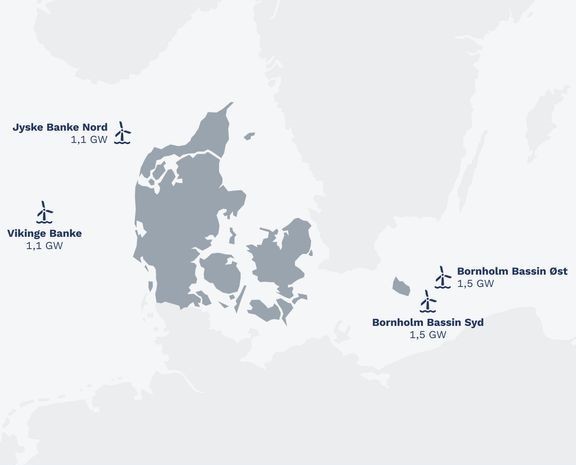 With the combined capacity of 5.2 GW, the four offshore wind farms would bring more than double the current installed offshore wind capacity in Denmark, according to Ørsted and CIP.
The partnership, which is subject to merger clearance that is expected to be obtained before the end of 2022, encompasses the development, construction, and operation of the offshore wind farms as well as the related transmission assets.
According to a press release from Ørsted and CIP, the projects would be built by 2027/2028, if feasible and approved.
The 'open door' scheme in Denmark allows for the projects to be rolled out earlier than otherwise which can ensure delivering both more clean energy and clean fuels through Power-to-X faster.
The government tenders for offshore wind enable the country to realise its 70 per cent carbon emission reduction target for 2030, but the large 'open door' projects can ensure that industries currently dependent on international oil and gas import can use Power-to-X as a green alternative much earlier than otherwise, according to the two companies.
"The four major open-door projects can help consolidate Denmark's continued leadership position and create the foundation to kick-start the next phase of a Danish business adventure around the production of renewable hydrogen and green fuels", said Rasmus Errboe, Head of Region Continental Europe at Ørsted.
The partnership said there is a large potential to use the power directly for Power-to-X and to potentially enable regional centres for large-scale production of renewable hydrogen or green fuels.
This renewable hydrogen can then be fed into the international hydrogen infrastructure that is on the drawing board in Northern Europe, turning the Danish North Sea and Baltic Sea regions into international growth centres for renewable energy production, Ørsted and CIP said.
Furthermore, the new partners noted they would also focus on sustainability and biodiversity throughout the buildout of their four projects and said the open-door projects should meet the same high demands as future government tenders.
"It's an obvious and good idea for the most experienced Danish offshore wind developers to join forces to ensure that Denmark's largest build-out of offshore wind takes place as efficiently as possible and with due respect for the environment and biodiversity in Danish waters", said Torsten Lodberg Smed, Senior Partner at Copenhagen Infrastructure Partners.
On 31 August this year, the Danish Energy Agency (DEA) said that it had received 47 applications through the 'open door' process from 4 April to 30 August, of which 16 have been rejected due to overlap with state land reservations.
Of the remaining 31 applications, Copenhagen Infrastructure Partners is one of the developers that account for most of the proposed projects.
After being received and accepted by the DEA, the applications for feasibility studies for the proposed projects are being sent for regulatory consultation.
The final decision on whether a project can be granted a feasibility study will depend on an assessment, in which a number of different factors are being taken into account. Granting a feasibility study permit does not imply that permission is given to build an offshore wind farm at the given location, but only that studies necessary for the project can be carried out.
Follow offshoreWIND.biz on: