Hai Long Awards Jacket Foundation Contract
Hai Long Offshore Wind Project has signed the jacket foundations fabrication contract with Samkang M&T after naming the company as the preferred supplier in January this year.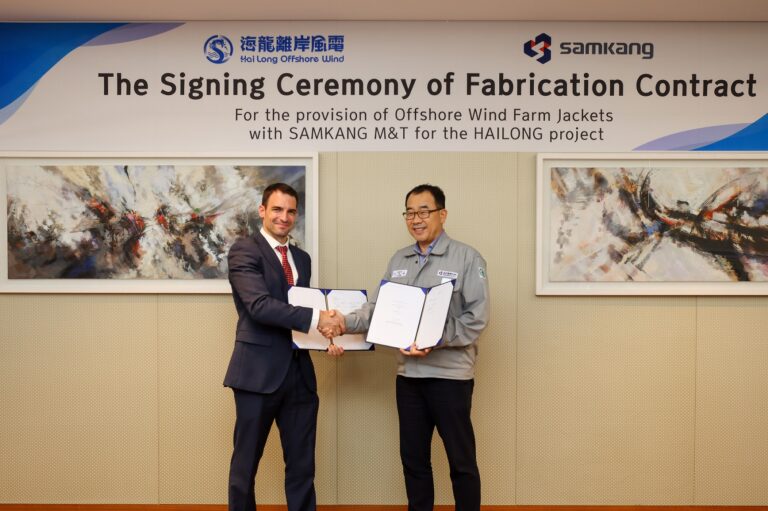 Samkang M&T will provide jacket foundations for the Hai Long 2b and 3 offshore wind projects in Taiwan, for an installed capacity of 744 MW to support the 14 MW Siemens Gamesa wind turbines.
The company will supply a total of 52 jackets to Hai Long by December 2024. With a weight of over 2,000 tonnes and a height of 94 metres, the units supplied will be the largest foundations ever installed on a Taiwanese offshore wind farm, Hai Long said.
"The conclusion of this fabrication contract is another key milestone achieved in our path towards financial close and into execution", said Felipe Montero, Project Director for Hai Long and Head for Northland Power Taiwan.
Yesterday, Hai Long Offshore Wind Project signed the pin piles fabrication contract with EEW Korea Heavy Pipe Construction (EEW KHPC) after naming the company a preferred supplier back in October 2021.
Hai Long Offshore Wind, a consortium comprising of the Canada-based independent power producer Northland Power, Yushan Energyfrom Singapore, and Japan's Mitsui & Co., Ltd., expects to begin construction in 2024 and to commission the wind farms in 2025-2026.
Located 40-50 kilometres off the coast of Taiwan and with a water depth of 35-55 metres, the Hai Long offshore wind farms are some of the largest wind projects in Taiwan with a total capacity of over 1 GW.
Hai Long's three separate grid allocations include the 300 MW Hai Long 2a, the 232 MW Hai Long 2b, and the 512 MW Hai Long 3.
Follow offshoreWIND.biz on: