Crown Estate Updates Celtic Sea Lease Areas
The Crown Estate has refined the "Areas of Search" for the development of floating offshore wind in the Celtic Sea, as part of the work toward holding a seabed leasing round for 4 GW of floating wind next year.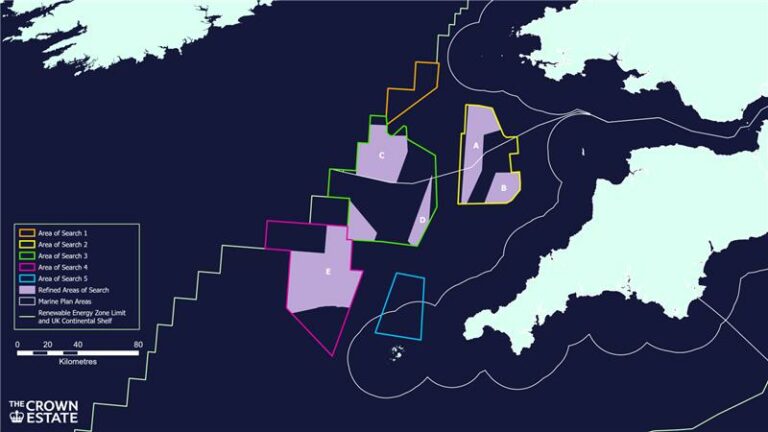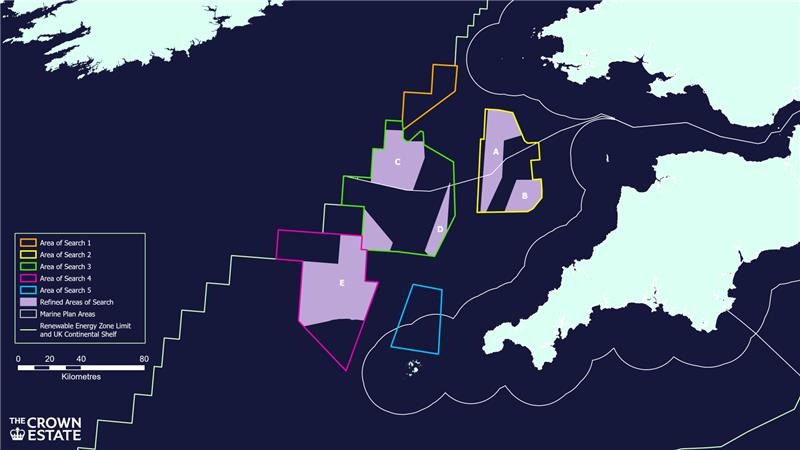 Following the announcement in July of five broad "Areas of Search", the Crown Estate has now published "Refined Areas of Search" which are smaller areas of seabed within which projects may be located in the future.
The original Areas 1 and 5 have been removed from current consideration, while five smaller areas have been identified within Areas 2, 3, and 4, after engagement with multiple stakeholders.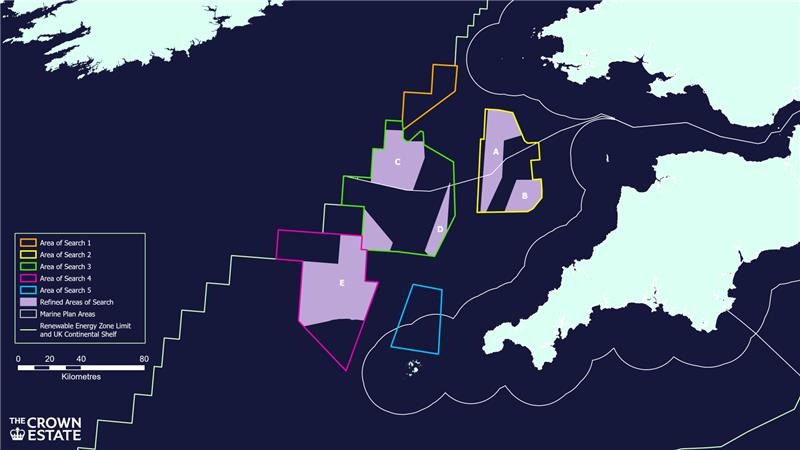 The Crown Estate said it will further refine the areas over the coming months into potential Project Development Areas in order to ensure that developers have access to floating offshore wind locations that are expected to be deliverable in the near term.
Work to identify the project development sites, which started last year, is being undertaken simultaneously with the plan-level Habitats Regulations Assessment, which assesses the potential impact of leasing on environmentally valuable habitats.
The Crown Estate will also conduct engineering and environmental surveys in advance of consenting, with a view to being able to supply data to successful bidders to accelerate the delivery of their projects, potentially by many months, the seabed authority said.
The project development areas will be offered to the market via competitive tender, to be launched in mid-2023.
The seabed authority has also advised developers that, as part of their participation, they will be expected to provide a plan of their early investment in support of an internationally competitive supply chain.
"In an internationally competitive market, The Crown Estate will continue to facilitate investment in jobs, skills and infrastructure, so that communities neighbouring the Celtic Sea may benefit from the opportunities that a floating wind economy can generate", said Nicola Clay, Head of New Ventures Marine at the Crown Estate.
Submission of these plans, alongside other legal, financial, and technical elements, will determine whether participants qualify for proceeding to the final stage of the tender, the Crown Estate said.
Those who are successful in the tender will be expected to update their plans as they develop their projects, so that the Crown Estate and other stakeholders can understand how best to support supply chain development, according to the Crown Estate's latest press release.
The final award of an Agreement for Lease for each site will be based on the price offered.
This proposed floating wind leasing round will play a key role in realising green energy ambitions in the Celtic Sea, the UK seabed manager said and added that a separate, new research it commissioned indicated that the Celtic Sea has the economic potential to accommodate up to an additional 20 GW of floating offshore wind capacity by 2045.
Follow offshoreWIND.biz on: