PowerX Reinventing Offshore Energy Transfer with Power Ark Vessels – Guest Post
---
The following article is a guest post by Una Softic, a Global Partnerships Advisor at PowerX.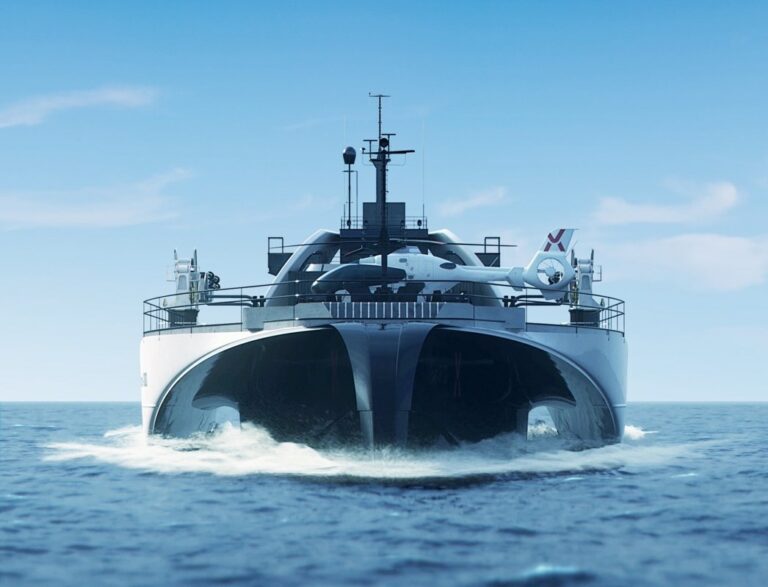 ---
Japanese company PowerX is addressing renewable energy transfer challenges with strategic partners in Japan and globally, developing a power transfer vessel – Power Ark, and building a large-scale battery assembly facility – Power Max.
PowerX is set to solve a fundamental problem of renewable energy: energy transmission. They envision a future in which large ships no longer carry the fuel to burn to make electricity, but carry electricity itself, replacing power lines/undersea cables in a far more sustainable way of transferring power across the globe. Set in one of the world's most challenging renewable energy markets, Japan, PowerX aims to act as a catalyst on a global scale.
Despite being the second-largest electricity market in the OECD with world's sixth-largest coastline, Japan lags behind other developed countries on the utilization of renewables, with wind power generation proven especially difficult due to the country's geographic challenges: Positioned at the Northwestern Pacific Ring of Fire on multiple tectonic plates and the continuous subduction of oceanic trenches, Japan is prone to frequent earthquakes, tsunamis, and stratovolcanoes.
Regular typhoons, mountainous topography, and steep coasts with deep coastal waters further limit the potential range for setting up wind turbines, both for land and fixed bottom offshore projects. There are very few shallow water areas available for development, with alternatively too low or too high wind speeds, making the production of offshore wind in Japan more complex and consequently more expensive than in other regions.
Deep coastal waters offer better wind conditions, but require floating platforms with turbines that can withstand rough natural occurrences. Those areas are often limited due to exclusive use of suitable marine areas, and require coordination with the existing users such as fishermen and maritime transporters.
In addition to geographical limitations, offshore wind generation meets other entry barriers, such as specific grid connectivity and infrastructure that has been requiring adaptations. The Japanese government has introduced plans to renovate the electrical power network and conform to new regulatory requirements for higher levels of safety.
While permitting and regulatory approvals have been proven difficult in the past, the government addressed these challenges by regulatory reform, announcing new campaigns and policies to increase the share of renewable energy and expand the generation of locally offshore generated energy as the key renewable energy source. They are promoting R&D into floating wind turbines and related deep sea infrastructure, along with a variety of incentives to promote offshore wind measures.
Campaigns introduced support measures to complement its Feed-in-Tariff (FiT) regime, a policy enacted in 2012 in order to accelerate the adoption of renewable energy (wind power). The policy uses an incentive structure to create a cycle of investment, innovation through technology, as well as cost reductions, encouraging local energy companies to introduce new programs in an aim to reach the government's climate ambition (achieving net zero carbon dioxide emissions by 2050), target that includes the installation of 30-45 GW by 2040, with startups joining the market with niche solutions.
The ambitious goal of 45 GW would make Japan the world's third-largest generator of such power, corresponding to the electricity output of 45 nuclear reactors. The government plans to provide various types of support for the industry including surveys on wind movements and the geology of seabeds on which wind turbines will be installed to facilitate market entry by new operators.
Power Ark – Energy Transfer Vessel Set to Solve Challenges Facing Renewable Energy Industry in Japan
With the lowest self-sufficiency rate among the OECD's ten largest member nations, Japan is highly dependent on the import of fossil fuels ( 84.9 per cent of all power is generated by burning carbon-based fuels), making a country susceptible to the effects of international circumstances, causing difficulties in securing a stable supply of energy. As the majority of this energy is imported to Japan by large vessels, it prompted PowerX, a new startup in the Japanese energy market, to utilize local resources to reform the power transfer via ships that will no longer carry fossil fuels, but clean energy.

PowerX is building power transfer vessels that will carry electricity from its renewable source, replacing the fuel carbon ships while bringing energy from an offshore wind farm to a place in highest demand or the most suitable grid system, bypassing the local challenges of grid availability – specifically lack thereof between areas of highest power generation and demand.
The PowerX project Power Ark, an automated power transfer vessel with a massive battery payload, could eliminate the need of building new transmission lines between these regions, enabling power transfer from floating offshore wind farms to ports without the need of subsea cables.
Japan is running out of available suitable bottom-fixed spaces and wind conditions are more favorable further from the shore, but long-distance electricity transmission via subsea cables is not a viable solution. This is a complex civil engineering challenge in any geography, and Japan's daily earthquakes and rough seas entirely question the viability of their installation and maintenance, as strong earthquakes could disconnect the cables and would require constant repairs, destabilizing the power supply.
The Power Ark power transfer vessel is resilient to natural disasters, requires less time and cost for development, leaves minimal impact on the environment, and is able to significantly expand the potential of offshore wind power.  Carrying power within containerized batteries which support AC/DC conversion, it eliminates the need to develop and implement undersea cables, offshore substations, and booster stations. This simplification of power conditioning also reduces the overall cost of offshore wind farm development.
Power Ark projects include both the ship and the system, as the vessel's massive battery payload is integrated with the ship's controls, and includes charging and discharging, unique hull design, and system integration.
The first pilot ship will be developed by PowerX in partnership with Imabari Shipbuilding and is scheduled for completion in 2025. This first prototype ship will validate all features of the vessel in Japanese waters, including the collection of the energy, and transfer to the shore.
Power ARK is envisioned as a scalable vessel series. The primary ship "Power ARK 100", a trimaran that can travel up to 300 kilometres when running only on electricity, is designed to carry 100 grid batteries with over 200 MWH of power, which suffices for the daily electricity consumption by 22,000 Japanese households. All vessels of the Power Ark series will be equipped with Sonar, Lidar, AIS, Radar, Weather sensors, Autonomous navigation software, and sensing equipment, including GNSS-GPS, INS, FOG/ARHS, PPU, and Collision avoidance systems.
International Potential of Power Ark's Flexible Design
Power Ark can be implemented internationally to preserve the environment and provide safety in geographically challenging locations. Marine batteries can be loaded on/off the tanker, or can be charged and discharged without ever leaving the vessel, allowing greater flexibility for offshore wind farm locations. PowerX's vision is to accelerate the adoption of renewable energy, enabling offshore wind farm operators more flexibility and possibility to enter difficult markets while reducing environmental risk.
Power transfer vessels can also eliminate the need for constructing new grid sites along with years in planning and development, large investments and reduced flexibility, as ships can navigate to a port with existing grid infrastructure.
At the same time, energy transfer vessels provide a stable solution for international energy transfer. International cargo is already successfully transported via ships, and in the future, ships could carry power from one port to another in the same manner, easing political decisions within the international energy market. PowerX aims to enable an unprecedented energy transmission between any two ports on the planet. And within a single country, PowerX serves as a unique solution that can lift the restriction on power generation location, allowing greater flexibility for offshore wind farm locations.
Battery Assembly – Power Max Project 
To realize this vision, PowerX will build technical resources, but also a local large-scale battery assembly facility with automated production lines that will produce not only marine batteries needed for Power Ark, but also other types of energy storage systems such as EV fast chargers, house batteries, and grid batteries.
The factory will utilize off-the-shelf battery cells with an annual production capacity of 1 GWh by 2024, eventually reaching 5 GWh by 2028.

Each PowerX battery will be equipped with PowerX's unique SaaS solution ("Power Brain") for AI-powered real-time battery management, which will improve the quality, longevity, and sustainability of batteries. Turnkey power solutions will drastically simplify battery deployment and management.
Partnerships
PowerX has partnered with Imabari Shipbuilding to co-develop the prototype Power Ark by the end of 2025. At the same time, PowerX will collaborate with Nippon Yusen Kaisha (NYK) to develop energy storage solutions for ships, and pilot-testing of the Power Ark. 
Both DNV and ClassNK are supporting the project. PowerX signed a Letter of Intent with DNV to collaborate and chart new opportunities for renewable energy, seeking new conventions for the maritime and onshore power utility industries, and an MOU with ClassNK to collaborate on the design, development and field testing of the power transfer vessel prototype.
PowerX aims to change how the world consumes and transfers renewable energy providing a flexible solution that can be adjusted to the needs of the market and local specifics, not limited to Japan. Partnering with diverse worldwide shipbuilders, wind farm operators, logistics and power companies in different geographies, the design and solution will vary. PowerX is building a solution for one of toughest energy markets in the OECD, aspiring to drive innovation along with their partners, accelerating the global adoption of renewable energy.