Vena, KOMIPO to Develop 384 MW Offshore Wind Farm in South Korea
Vena Energy and Korea Midland Power Co. Ltd. (KOMIPO) have partnered on the development of a 384 MW offshore wind project near Yokji Island in South Korea.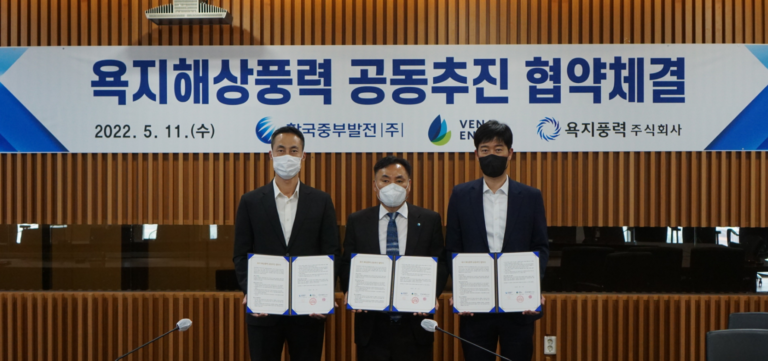 The Singapore-headquartered company announced the the signing of a Joint Development Agreement with KOMIPO only a day after revealing the establishment of a consortium with Shikoku Electric Power (Yonden) and Toho Gas for the development of an offshore wind project in Japan.
Under the terms of the agreement between Vena Energy and KOMIPO, the companies will collaborate on the development, operation, and maintenance of the offshore wind project planned to be built off the western coast of Yokji Island, which is under the jurisdiction of Tonyeong City.
The agreement also involves establishing a model of cooperation that will help support the local community, according to a press release from Vena Energy.
With 384 MW of installed capacity, the offshore wind farm will be capable of powering up to 184,000 Korean households annually. Compared to thermal energy generation, the project is expected to reduce approximately 514,000 tonnes of greenhouse gas emissions and save around 732 million litres of water yearly, Vena Energy says,
"With this partnership, Vena Energy and KOMIPO established a strong foundation to accelerate the energy transition in South Korea", said Kwangjin Cheong, the Head of Vena Energy Korea. "Powered by KOMIPO's experience, expertise, and ambition, we look forward to delivering this project to the people of Yokji Island and contributing to South Korea's energy independence and carbon neutrality goals".
KOMIPO is part of a consortium behind the 100 MW Jeju Hallim offshore wind farm, being developed in the waters near Hallim Port on Jeju island, and also plans to build a 800 MW project offshore Incheon City together with Ørsted.
Follow offshoreWIND.biz on: