Construction Works Resume on French Offshore Wind Farm
Construction works on the 496 MW Saint-Brieuc offshore wind farm are now resuming, the developer Ailes Marines informed on 7 March, saying the installation vessel Aeolus will be working at the site without interruption in 2022 and 2023.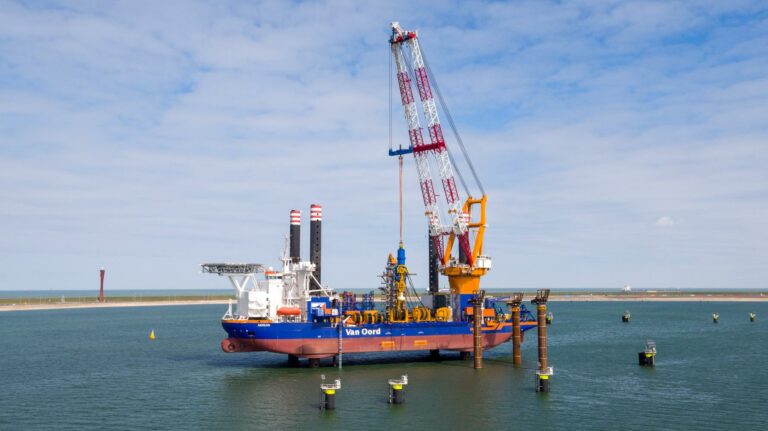 According to the vessel's AIS data, Van Oord's jack-up was at the Saint-Brieuc offshore wind farm site today, 7 March.
Continuing from 2021, the works will first be concentrated in the north-western part of the wind farm, where Aeolus now continues installing pin piles for the jacket foundations.
The first phase of construction at the Saint-Brieuc wind farm, which was completed in October last year, started on 3 May 2021 and was concentrated in the northern zone of the wind farm to allow for the fishing activities in the southern part.
Since its start in May last year, the first phase of construction works faced several setbacks, including malfunctioning drilling equipment, and work being halted by local fishermen.
The piling work that Aeolus is now resuming is scheduled to run from March 2022 and all the way until 2023, with Van Oord expected to also start installing the three-legged jackets at the pre-piled locations in the second half of this year.
Twenty-four foundations, produced by Navantia-Windar on the Brest polder, are already assembled and stored at the company's site in Fene, Spain, and twenty-one foundations are currently being assembled.
This Spring, Saipem will transport and install the electrical substation on site and, at the same time, Prysmian will begin the installation and burying of the 90 kilometres of three-core submarine cables between the wind turbines.
All of these work phases will mobilise more than twenty vessels on site at peak activity, Ailes Marines said.
Offshore construction work is expected to be completed in 2023 and the wind farm is scheduled to be operational by the end of that year.
Ailes Marines is a wholly-owned subsidiary of Spain's Iberdrola.
Follow offshoreWIND.biz on: