BayWa r.e. and Ulsan City Sign Floating Offshore Wind MoU
BayWa r.e. has signed a Memorandum of Understanding (MOU) with Ulsan City, South Korea, for the development of floating offshore wind projects off the coast of Ulsan.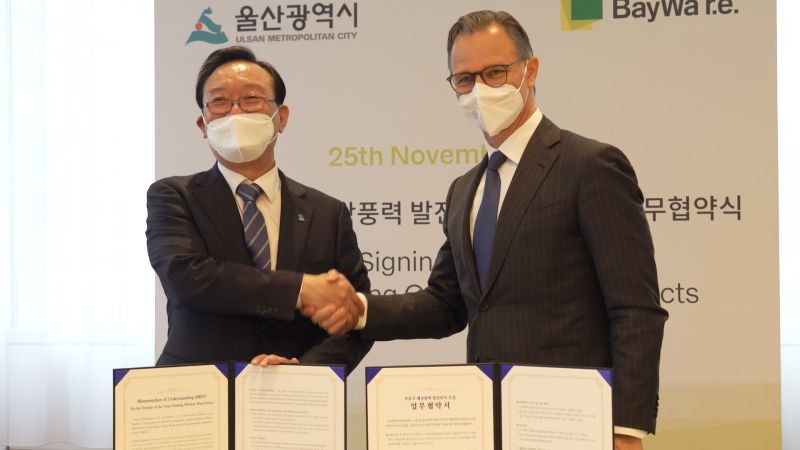 According to BayWa r.e., floating wind enjoys high levels of public support in Ulsan City, in part due to the city's major Song Cheol-ho promoting the industry and the resulting benefits to local communities.
Public support is said to be a key consideration of the South Korean government in determining where offshore wind should be focused, and could see several gigawatts of floating wind developed by multiple developer consortia off Ulsan City by 2030.
"It is an honour to collaborate with Mayor Song Cheol-ho and distinguished representatives from Ulsan City, Hyundai Heavy Industries, Sejin Heavy Industries, the Korean Energy Agency and Korean Hydrogen Industry Association, at the start of what we intend will be a successful partnership for BayWa r.e. and Ulsan City," Matthias Taft, CEO of BayWa r.e., said.
"We respect the commitment of Ulsan City to helping drive forward South Korea's climate goals, while also realising the benefits renewable energy projects can bring to local industries and communities. This month's COP26 has proven that collaboration between nations is critical if we are to achieve climate goals. We now look forward to progressing our partnership with Ulsan City and the local community to deliver the project in the best way possible."
BayWa r.e. entered the South Korean market in 2019 with the opening of a new office in Seoul and is actively pursuing on- and offshore wind and solar developments in the region. The company places a high priority on key partnerships with local suppliers, distributors and contractors and is committed to leverage these as its work in Ulsan progresses to ensure maximum benefit to the region.
Song Cheol-ho, Mayor of Ulsan, said: "Technical experience, strong local partnerships and commitment to the development of the Ulsan region are crucial attributes we look for in a partner, and we have found this in BayWa r.e. It is a pleasure to visit the BayWa r.e. team and build our shared ambition of developing offshore wind, bringing economic benefits to local communities and most importantly, contributing to the global renewable energy transition."
The signing of the MOU marks another milestone in BayWa r.e.'s ambitions for the offshore wind sector. The company already participates in the ScotWind tender in Scotland.
Furthermore, in September 2021, BayWa r.e. pre-qualified for participation in the largest call for tenders for floating wind on an industrial scale in Europe to date, held in Brittany, France.