Saipem 7000 Set to Install Seagreen OWF's Offshore Substation Jacket
The jacket foundation for the Seagreen 1 offshore wind farm's offshore substation is currently on its way to the project site in Scottish waters in the Firth of Forth, where the work on installing the structure is about to start.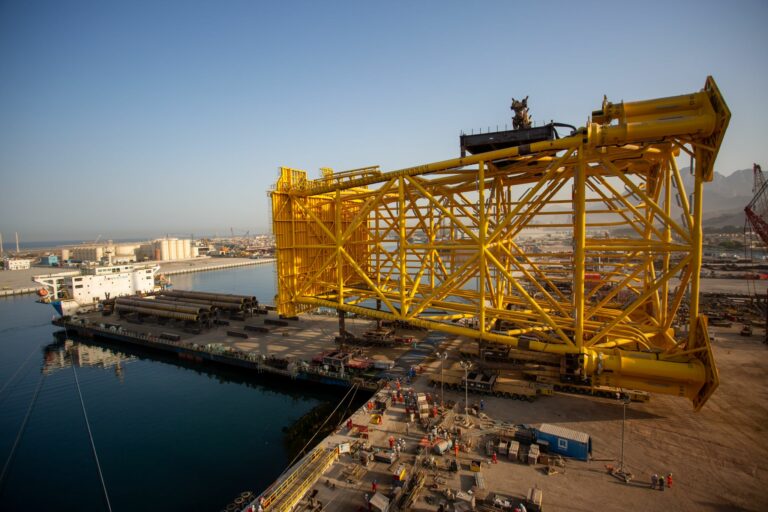 The jacket, which left Eversendai Offshore's fabrication yard in Ras Al Khaimah on board the Dongbang Giant 8 heavy transport vessel last month, will be lifted from the vessel by Saipem 7000 and installed at its designated location offshore Scotland.
According to the available AIS data, Dongbang Giant 8 arrived at the Port of Antwerpen on 16 November. The vessel then set sail to the project site after a few hours and is expected to arrive at the Seagreen site on 19 November. Saipem 7000 is currently at the Port of Aberdeen, where it came from Norway on 17 November, the AIS data shows.
The jacket will be upended and placed on the seabed with twelve piles (two per each jacket leg) to be placed into the jacket's pile sleeves and hammered into the seabed. On completion, the area between the piles and the pile sleeves will be filled with grout.
Petrofac is in charge of the installation work under a contract the company was awarded for the design, supply, and installation of the High Voltage Alternating Current (HVAC) onshore and offshore substations for the 1,075 MW offshore wind farm.
The company subcontracted Eversendai Offshore to construct the jacket foundation, piles, and the topside for the offshore substation.
The Saipem 7000 semisubmersible crane vessel is also installing the wind farm's turbine jacket foundations with Seaway 7 as the main contractor for the work. The vessel installed the first wind turbine jacket in the first half of October.
Seagreen will comprise 114 foundations which will support just as many Vestas 10 MW turbines.
The offshore wind farm is owned by SSE Renewables and TotalEnergies, with SSE leading the development and construction, as well as the operation, once the wind farm is completed.
When fully built in 2023, the 1,075 MW project will be Scotland's largest, and the world's deepest, fixed-bottom offshore wind farm.