All Saint-Nazaire OWF Foundations Transported to France
SAL Heavy Lift has completed the transport of wind turbine foundations for the Saint-Nazaire offshore wind farm from the Netherlands to France.

The company's vessel MV Svenja shipped 80 monopiles and as many transition pieces from Sif's Maasvlakte site at the Port of Rotterdam to the Port of La Rochelle, starting in February. MV Svenja made its final of the total of 20 journeys for the project at the beginning of this month.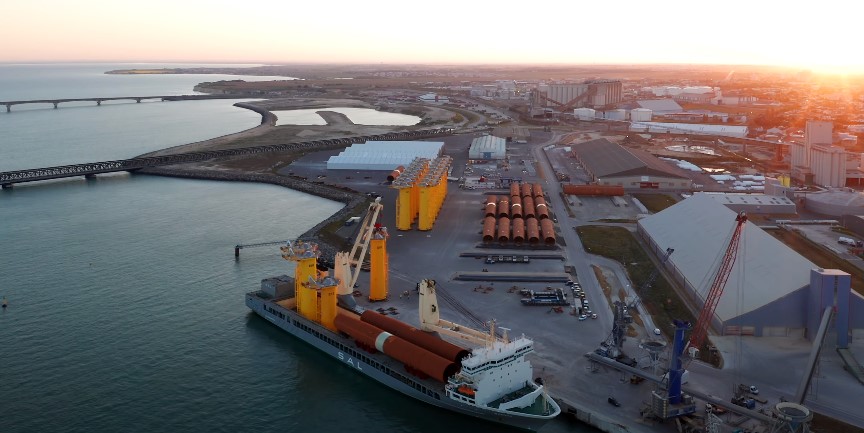 The foundations were manufactured by Smulders and Sif, with Sif delivering 80 monopiles and the primary steel for the transition pieces under a contract with Smulders, which produced the transition pieces. Sif's Maasvlakte site was used to store the monopiles and to dispatch the foundations to France, with Smulders first sending the transition pieces from its facility in Hoboken, Belgium, to Sif's site.
The 80 wind turbine foundations are being installed by DEME Offshore's jack-up vessel Innovation which put the first in place in early May and installed more than a quarter of the project's foundations by the end of August.
According to DEME, 73 of the wind farm's XL monopiles have to be drilled through the calcarenite rock at the project site, located between 12 and 20 kilometres off the coast of the Guérande peninsula, which represents an industry first.
Saint-Nazaire, also known as Parc du Banc de Guérande, will comprise 80 GE Haliade 150-6MW turbines.
The 480 MW project is scheduled to be operational in the summer of 2022 when it will become the first commercial-scale wind farm installed in French waters.
The wind farm is being developed by Eolien Maritime France (EMF), a consortium of EDF Renouvelables, Enbridge, and Canada Pension Plan Investment Board.