EEW SPC and Windar to Deliver Baltic Eagle Foundations
Iberdrola has contracted EEW Special Pipe Constructions (SPC) and Windar for the supply of 50 monopile foundations and accompanying transition pieces for the Baltic Eagle offshore wind farm in Germany.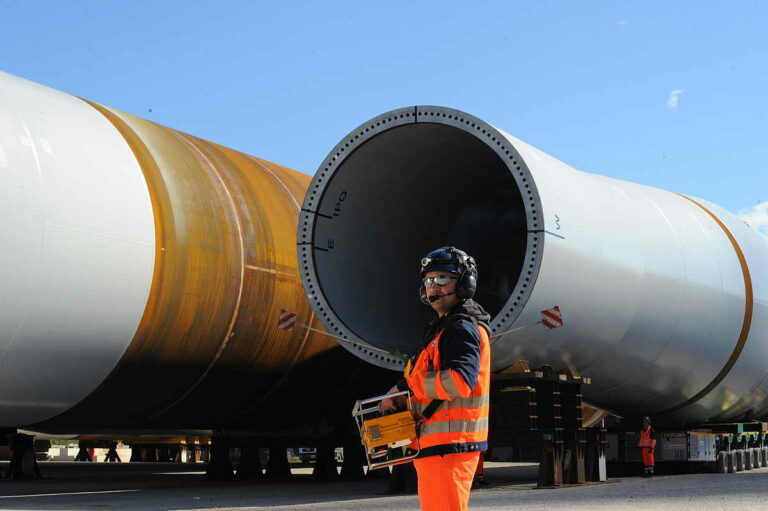 The monopiles will be fabricated at EEW's mega-factory in Rostock, starting in January 2022. The monopiles will have a diameter between 8.75 metres and 9 metres and a maximum length of 90 metres. The heaviest monopiles will weigh 1,402 tonnes.
The manufacturing of the monopiles is expected to be completed by January 2023. The load-out is scheduled to begin in April 2023 and the installation campaign at the Baltic Eagle site is expected to last around six weeks.
Windar will be carrying out the main construction activities for the transition pieces (TPs) at its yard located in Avilés, Spain, starting this October. The Spanish company is scheduled to complete the TP production until December 2022, with load-out planned for the beginning of 2023.
The production of the 50 transition pieces for Baltic Eagle will involve some 30 Windar suppliers in the North of Spain, including steel production, components, equipment, testing and auxiliary machinery companies. The contract will create 800 jobs and 1.3 million man-hours, according to Iberdrola.
The foundations will be supporting 50 Vestas 9.5 MW wind turbines, to be installed by Fred. Olsen Windcarrier using its Blue Tern jack-up vessel. Wind turbine installation is scheduled to start in 2024 and Baltic Eagle is expected to be up and running the same year.
The 476 MW project, Iberdrola's second largest offshore wind farm in Germany, is located in the German Baltic Sea, 30 kilometres from the German island of Rügen.