Copenhagen Offshore Partners Installs Floating LiDAR in South Korea
Denmark-headquartered offshore wind developer Copenhagen Offshore Partners (COP) has installed a floating LiDAR off South Korea.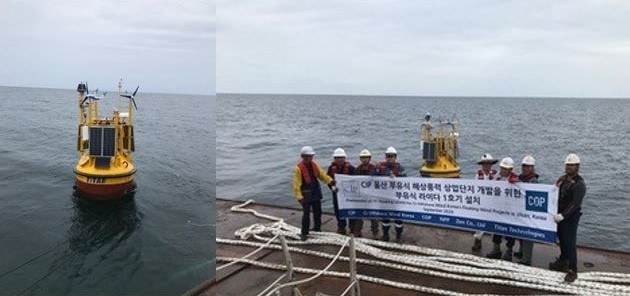 According to the company's post on social media, the LiDAR was "finally" deployed on 18 September following a series of typhoons in Korea.
The floating LiDAR will carry out a range of measurements, including collecting offshore wind data that will inform the financing of an offshore wind farm.
COP did not specify the location or the development for which the LiDAR has been deployed.
Denmark's Copenhagen Infrastructure Partners (CIP) has earlier entered into a partnership with South Korea's energy company SK E&S, one of four partnerships and investors which signed a Memorandum of Understanding with the City of Ulsan in 2019, aiming to build and maintain floating wind farms in South Korea.
In July, Equinor announced two floating LiDARs were deployed off Ulsan to investigate the possibility of developing and constructing an 800 MW floating offshore wind project.
In September, Total and Macquarie's Green Investment Group (GIG) signed a series of agreements to co-develop an initial 2.3 GW portfolio of five floating offshore wind projects in Korea, three of which are in Ulsan and two in South Jeolla Province.
Later that same month, Doosan Heavy Industries & Construction and Hyundai Heavy Industries signed agreements with Korea National Oil Corporation to join the Donghae 1 floating offshore wind project, located 58 kilometres off Ulsan, near the Donghae 1 gas field.
This summer, the South Korean government announced plans to build 6 GW of floating wind capacity off Ulsan from 2023 onward.
Donghae 1 is currently the most mature floating wind project in South Korea.