Windea Jules Verne Arrives in Eemshaven
The new Service Operation Vessel (SOV) Windea Jules Verne arrived in Eemshaven on 29 June, according to the vessel's AIS data and social media posts from DHSS.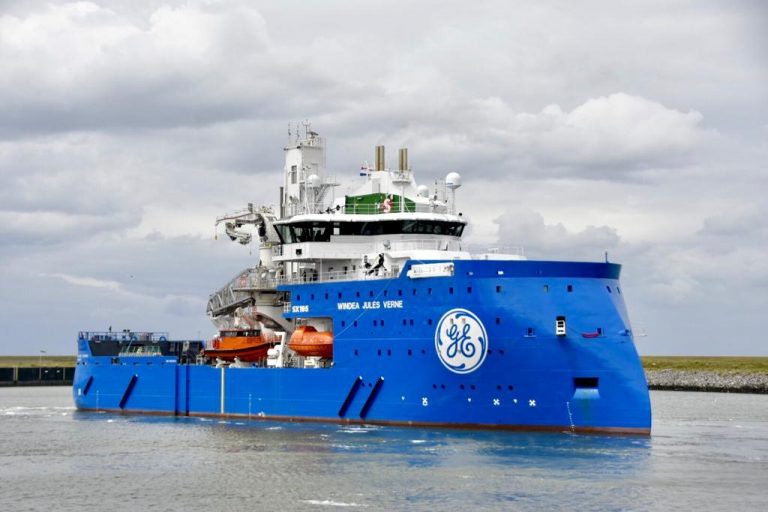 The vessel will soon start working at the Merkur offshore wind farm in Germany, under a charter with GE Renewable Energy, whose 66 Haliade 150-6 MW turbines are making up the wind farm.
The Port of Eemshaven is the marshaling port for the new SOV, as GE's operations and maintenance (O&M) base is situated there.
In March, GE signed a contract with DHSS for vessel agency and port logistics services at the Port of Eemshaven, to be provided during the O&M phase of the Merkur offshore wind farm.
Windea Jules Verne has been built by Ulstein Verft in Norway and delivered to its owner Bernhard Schulte on 24 June.
The 93.4-metre SOV, which can accommodate up to 120 people, is powered by a diesel-electric hybrid system.
The vessel is equipped with a tower holding a personnel and equipment elevator, and a heave compensated gangway for transfer to offshore wind turbines.
Furthermore, Windea Jules Verne can move in reverse, with the stern first, when operating infield. As an add-on, the vessel will use a daughter craft to further increase the service capacity, according to Ulstein.
The 66 wind turbines of the 396 MW Merkur wind farm were fully commissioned in June 2019.
The project has a ten-year O&M agreement with GE Renewable Energy for the service and maintenance of the turbines.