The consultancy company Navigant has delivered a report to Irish transmission system operator EirGrid, which will help determine the best grid development policy model for Ireland.
Eirgrid commissioned the report from Navigant after being directed by the Irish government to develop an Options Paper on offshore grid models. Along with the report, the Irish government is also obtaining relevant information through consultation on the grid development policy, launched on 10 June.
For the report, the consultancy carried out a review of grid development approaches in several countries and then developed and assessed four example delivery model options for consideration in the Irish context, ranging from a fully developer-led model to a fully plan-led model.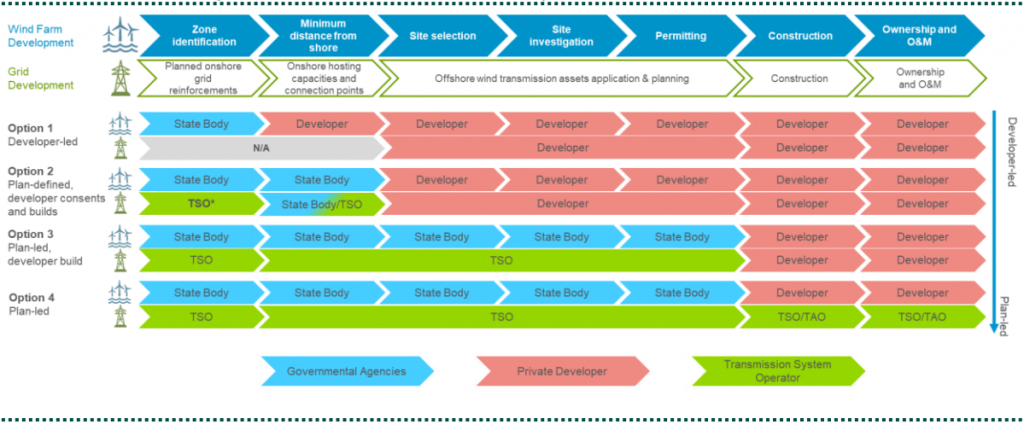 The first option looks at a fully developer-led grid delivery model, whereby developers have the responsibility for the development and operations and maintenance (O&M) of the wind farm and offshore wind farm transmission assets, following successful participation in an auction.
Required onshore grid reinforcements, as the grid connection point lies onshore, are undertaken by EirGrid and ESB Networks in a reactive manner based on the announcement of the successful projects, the report reads.
The second option considers an approach where the state defines the minimum distance from shore for wind farms and grid connection points, as well as an available onshore grid capacity for Renewable Electricity Support Scheme (RESS) auctions. Here, EirGrid proactively plans and coordinates onshore grid reinforcements.
The developer remains responsible for site selection and pre-development, and the consenting and construction of the offshore wind farm transmission assets.
The last two options shift responsibilities from the developers to a government authority such as EirGrid or ESB Networks, with a single state body for offshore renewable energy (ORE) developments managing the planning and the site pre-development processes for offshore wind farms.
Options 3 and 4 see the planning of onshore grid reinforcements and offshore developments as being optimised, with shared asset development prescribed for offshore wind farm sites, where appropriate.
Specifically, the third option involves developers' responsibility for the construction, ownership, operation and maintenance of a transmission asset in a plan-led model.
The fourth option considers a fully plan-led model, shifting even more responsibilities to EirGrid and ESB Networks, as the construction, ownership, operation and maintenance of a transmission assets are centrally planned by EirGrid and ESB Networks.
The model ultimately chosen will not necessarily be one of those set out in the paper and/or could contain elements of two or more options, according to DCCAE.
Ireland is embarking on developing its grid development policy as it aims to achieve its target of at least 3.5 GW of installed offshore wind capacity in 2030, set out in its Climate Action Plan in 2019.
Photo: NnG Offshore Wind/Illustration