PSG Completes Moray East Marshaling Work
PSG Marine & Logistics has completed its pin pile marshaling scope for the Moray East offshore wind farm in the UK.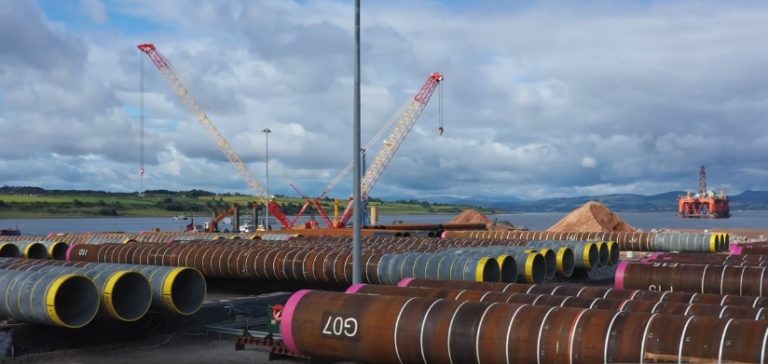 PSG was in charge of handling 159 pin piles and providing heavy lift crawler cranes, SPMTs and all associated heavy lift and transport personnel under a contract with DEME Offshore.
The Invergordon-based company started loading in and loading out the jacket pre-piles and the related equipment from the Port of Cromarty Firth at the end of May.
According to PSG, the work was supported by Techlift International who provided detailed engineering and project management services.
"We are extremely proud to have successfully executed this initial scope for DEME Offshore, which we completed with zero LTI's," said Steve Clark, PSG's Managing Director.
"The successful completion of this project clearly demonstrates that locally based contractors such as PSG, have the range of necessary skills, equipment and workforce to support the delivery of future large scale offshore wind farm projects from the world class facilities on offer at Port of Cromarty Firth."
DEME is the EPCI contractor for the wind farm's turbine foundations and three offshore substation foundations, and is in charge of the transport and installation of the OSS topsides. Its jack-up vessel Apollo recently completed the installation of 156 out of 309 pin piles at Moray East, marking the halfway milestone.
The 950MW offshore wind farm will comprise 100 MHI Vestas 9.5MW turbines scheduled to be fully operational in 2022.