Moray East Pin Piles Pass Halfway Mark
DEME Group's jack-up vessel Apollo has installed 156 out of 309 pin piles at the Moray East offshore wind project in the UK, marking the halfway milestone.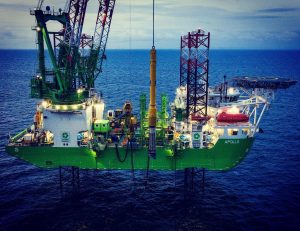 According to DEME, a pile installation template is being used, where three pin piles are stabbed into the seabed through the piling temple and then driven to target depth in readiness for the jacket installation.
BiFab is in charge of manufacturing 150 pin piles, with the remaining produced by EEW. Smulders is carrying out a major part of the fabrication works on 55 of 100 jackets, including all final assembly, and Lamprell is producing the remaining 45.
To remind, DEME won the EPCI contract for the wind farm's turbine foundations and three offshore substation foundations back in October 2017. The company will also transport and install the three OSS topsides at the offshore site.
Moray East will comprise 100 MHI Vestas 9.5MW turbines scheduled to be fully operational in 2022.
Related news
List of related news articles