SHL Covers Difficult Beatrice Angles with Ampelmann's Angular Boom Tip
After being awarded a contract by Seaway Heavy Lifting (SHL), Ampelmann has designed and created an Angular Boom Tip that SHL is now using during the installation of the jacket foundations at the Beatrice offshore wind farm to ensure the workers safely access the wind turbine structures.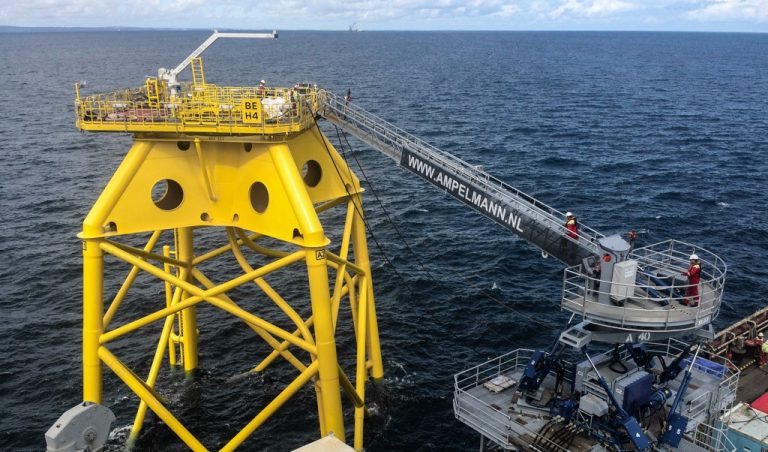 The design, development and installation of the detachable tip took around two months and is deployed on the Beatrice project using Ampelmann's A-type motion compensated gangway system.
Ampelmann explained that, due to the size of the heavy lift vessels Oleg Strashnov and Stanislav Yudin, their close proximity to the jackets and the location of their access gates, the company custom-made the V-shaped tip at the end of the 25-metre gangway to give workers easy access to build and manage each new wind structure with secure connection at difficult angles.
"Though the tip is a quite a straightforward piece of steel, the rubber covered angular shape now allows us to land at difficult angles as small as 45 degrees, while eliminating the risk of gaps between gangway and structure," said Friso Talsma, Ampelmann's Manager Sales and Business Development for Offshore Wind.
"It's a new innovation, tailor-made for this particular project and overcomes a significant safety and potentially costly challenge faced by the operators to ensure safe access to the structures. It's an industry first and no other competitor has such a solution," Talsma added.
The 588MW offshore wind farm will consist of 84 Siemens 7MW wind turbines and two Siemens Offshore Transformer Modules (OTMs), all placed on top of jacket foundations.
SHL has just completed the piling works, with 24 jacket foundations already installed and the installation of the remaining ones underway.
The first wind turbines are expected to be installed in summer 2018, with the wind farm anticipated to be commissioned by the end of 2019.