Expertise Hub VIDEO: New Continuous Access Gangway Gives Barge Master an Edge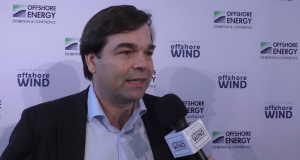 Barge Master's new gangway system developed in cooperation with Bosch Rexroth offers continuous access for personnel and cargo and has so far performed excellently on the Walney Extension offshore wind farm, Martijn Koppert, CEO of Barge Master, said.
The new gangway eliminates the need for stopping the system every time you want to load personnel or cargo and carry out the transfers, Koppert said, adding that the gangway offers non-stop access to platforms or transition pieces.
The new system also takes up less space on the deck and it comes equipped with an elevator which transfers personnel from lower decks to the gangway, Koppert said.
Watch our Expertise Hub video to find out more about Barge Master's current projects, including the development of a feeder barge with CFL, as well as the company's plans for the future.
---
NOTE: The new gangway system was installed on the VOS Start and not the VOS Stone as suggested in the video.
---
For more Expertise Hub interviews, visit Navingo's Offshore WIND channel on Vimeo.