EMO Starts Building Merkur Service Base in Eemshaven
EMS Maritime Offshore (EMO) has laid the foundation for the Merkur offshore wind farm service base in Eemshaven, the Netherlands.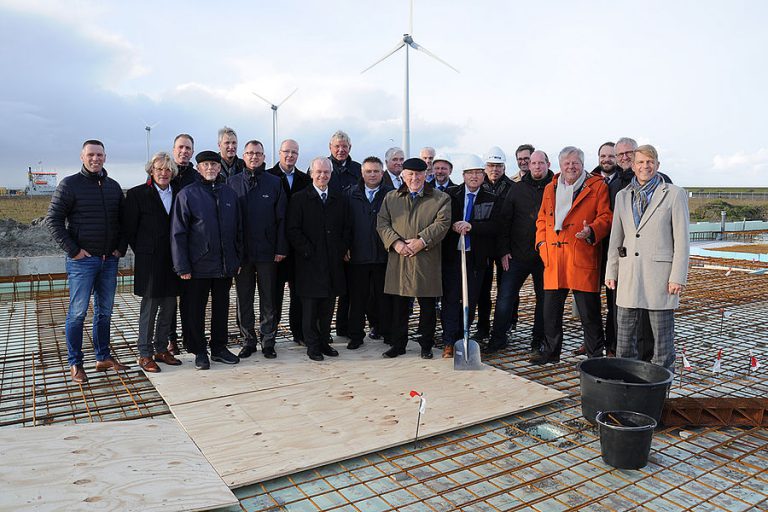 BV Kooi Bouwbedrijf, the general contractor for the construction work, will build a 600 m² warehouse, affiliated offices covering 500 m² spread across two floors, as well as the terminal logistics.
Merkur Offshore GmbH, the developer of the German 396MW Merkur offshore wind farm, signed a long-term contract with EMO in October 2017 for the construction of the service base in Eemshaven.
"Eemshaven is an excellent location for supervising the equipment in the wind farm effectively. It was important for us to find a partner whose service, competence, and flexibility were convincing," said Markus van Hümmel, Head of Commissioning and Operations at Merkur Offshore GmbH.
The project, worth approximately EUR 1.4 million, is expected to be completed in the spring of 2018, when Merkur Offshore will start carrying out part of its maintenance and service works for the offshore wind farm from Eemshaven.
GE Renewable Energy, the provider of 66 Haliade 6MW wind turbines for Merkur, will also use the entire infrastructure for the upcoming years.
The Merkur offshore wind farm, located approximately 35km north of the island of Borkum in Germany, is expected to be fully operational in 2019.