Buss Setting the Stage for Merkur Offshore Wind Farm
Buss Offshore Solutions has begun with preparations for the 396MW Merkur offshore wind farm at its Orange Blue Terminal in the Dutch port of Eemshaven.
The company has already completed the preparations for the storage, cargo handling and assembly work of the transition pieces for the Merkur offshore wind farm.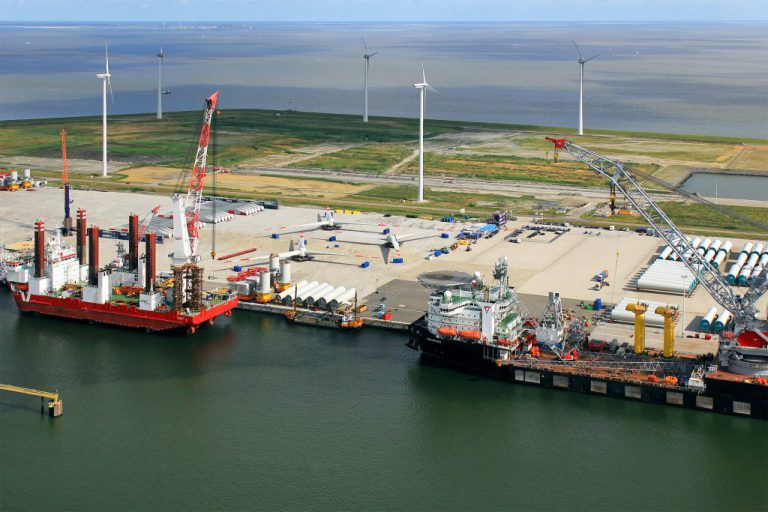 The Buss Orange Blue Terminal signed a contract with the Merkur constructor GeoSea N.V. in June, under which a total of 66 transition pieces will be temporarily stored at the terminal, finally assembled and then transported to the wind farm via jack-up vessel.
The Merkur offshore wind farm will be constructed 35km to the north of the island of Borkum. It will comprise 66 GE Haliade 6MW wind turbines scheduled for commissioning in 2018.
While Buss Offshore Solutions is amid Merkur preparations at the terminal, Senvion is currently clearing the area following the completion of the works at the Nordsee One offshore wind farm.
Namely, Buss Offshore Solutions recently completed its contract for the 332MW offshore wind farm which involved the planning and coordination of all services required before and at the terminal.
In operational terms, the Orange Blue Terminal took care of preparing the area, transport and the interim storage on the terminal premises, the pre-assembly of the complete towers and rotors on site and the subsequent delivery of components to the quayside.