GeoSea and Buss Team Up on Merkur
The Buss Orange Blue Terminal signed a contract with offshore wind farm constructor GeoSea N.V. for the handling and storage of the transition pieces for the fundamental structures of the 396MW Merkur offshore wind farm.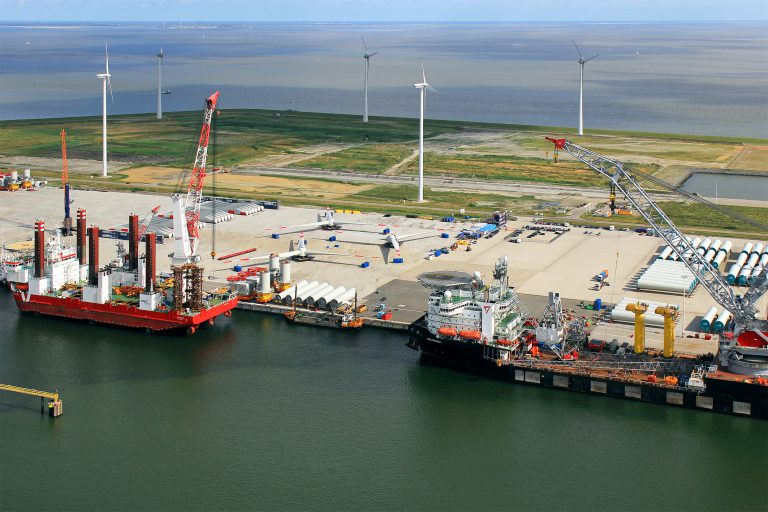 Harbour project logistics manager and consultant Buss Offshore Solutions, based in Hamburg, will assume the project planning and project management.
Buss Offshore Solutions and Buss Orange Blue Terminal will roll out the project from July 2017 to the estimated date of end of October 2017 at its North Sea terminal in the Dutch seaport of Eemshaven.
"We're very pleased to be working with GeoSea N.V. once again. This adds to the list of projects we've already realised together; Borkum Riffgrund I, GodeWind and RaceBank. The Orange Blue Terminal is the ideal base port for constructing the wind farm in the North Sea," said Martin Schulz, Buss Offshore Solutions.
The Orange Blue Terminal has already begun with preparations of the area for handling and assembly works and storage. This includes the construction of onshore foundations for the vertical storage of transition pieces at the quay and in the rear part of the terminal as well as the provision of a mobile warehouse with an area of approximately 900 m² for the storage of various components and small parts.
The first components should begin arriving from July 2017 via self-loading heavy lift vessel in Eemshaven and be available at the quay wall. Orange Blue Terminal will then distribute these across the storage area via crawler crane. Storage capacity is planned for 16 transition pieces simultaneously.
GeoSea will carry out final outfitting works during the storage phase, which Orange Blue Terminal will support with additional equipment such as mobile cranes, forklift trucks and cherrypickers. Orange Blue Terminal will then load the finished transition pieces onto the installation ship using its own landward crane.
A total of 66 transition pieces will be needed for the Merkur wind farm which will be temporarily stored at the Orange Blue Terminal, finally assembled and then transported to the wind farm via jack-up ship.
"The transition pieces weight around 330 tonnes each – so handling them is thoroughly challenging. At the same time, it's extremely important with a task like this to stick to the schedule, otherwise other project phased could become delayed. Naturally, the experience we've accumulated in countless large projects will stand us in good stead," said Schulz.
The Merkur offshore wind farm will be constructed 45km to the north of the island of Borkum. It will comprise 66 GE Haliade 6MW wind turbines scheduled for commissioning in 2018.