Sif and Smulders to Produce Siemens' Foundations for EnBW Hohe See
GeoSea, DEME Group's subsidiary appointed by Siemens to supply and install foundations for the EnBW Hohe See offshore wind farm, has awarded Sif the production of all 71 monopiles and, in joint venture with Smulders, all the transition pieces for the project.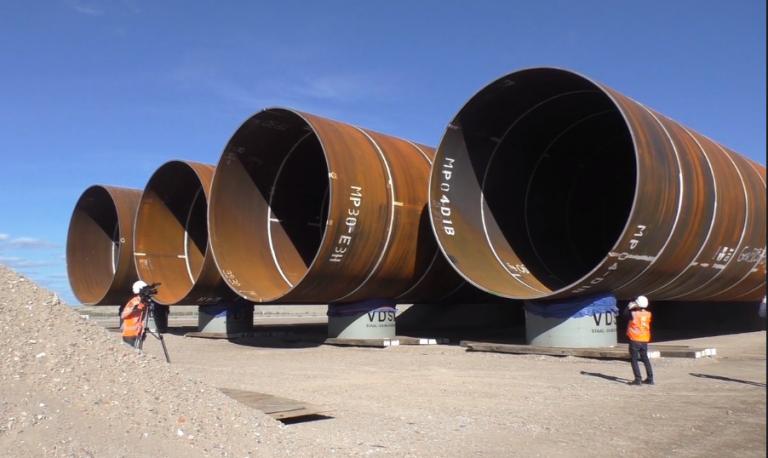 The monopiles will be produced by Sif. The transition pieces will be produced by Sif in joint venture with Smulders, whereby Sif will produce the primary steel and Smulders will be responsible for the secondary steel and outfitting of the transition pieces.
The companies are set to start working on the foundations in the second half of 2017 and to complete the production by mid-2018.
GeoSea and Siemens concluded an EPCI foundation contract for the 497MW German offshore wind farm in 2016, when Siemens began with the development of project-specific solutions for the EnBW Hohe See foundations. The result was the development of a large monopile design with a length of up to 80m and a weight of up to 1,500t to anchor the wind turbines solidly into the seabed.
After the final investment decision for the project was reached last week, Siemens officially received its first ever order for complete offshore wind farm solutions including foundations.
The company said that, with its extended scope, it helped to mitigate risk-exposure to the investors significantly.
Offshore construction at the EnBW Hohe See site is scheduled to start in early 2018, with Siemens scheduled to begin manufacturing 71 of its 7MW wind turbines for the project in mid-2018.
The wind farm is expected to be operational in 2019.
The contract marks another cooperation between Sif and Smulders, which go way back in fabricating foundations for the offshore wind industry. The two companies celebrated the production of their 1,000th transition piece in 2014. More recently, the duo won foundation contracts for Belgian Rentel and Norther offshore wind farms.
Last year, Sif launched its new facilities in Rotterdam, after signing an agreement with the Port of Rotterdam for the construction of a production, storage and load-out terminal at Maasvlakte 2 in 2015. The company's site is now operational, with the first monopiles assembled in September 2016 and the first load-out on a seagoing vessel carried out on 2 January.
Watch our video to find out more about Sif's Rotterdam facilities: