Offshore ReWIND: Most Read News of 2014
As offshore wind farm developments move further out to sea and demands on the vessels and crews that service them increase, a rising number of wind farm crew transfer vessel incidents has become a growing cause of concern.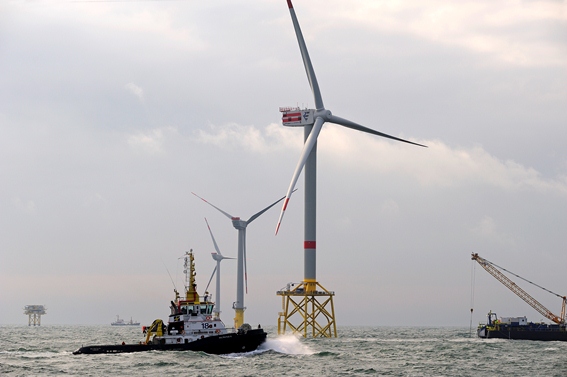 Mainstream Renewable Power has appointed Marubeni and Technip Offshore Wind Limited (working in consortium) as the preferred supplier of balance of plant EPCI (Engineering, Procurement, Construction and Installation) services for the Neart na Gaoithe offshore wind farm.
Jack-Up Barge, the offshore self-elevating platform supplier, has pioneered a new cost-effective installation method that promises to revolutionise offshore wind turbine construction.
The construction of towers and nacelles in the North Sea wind farm Global Tech I is running in full gear: During the weekend the 40th AREVA Wind turbine has been installed.
Siemens Energy has entered into a charter agreement with DBB Jack-Up Services A/S for the use of a new purpose-built jack-up vessel, the Wind Server, designed for the service and maintenance of the rising number of large scaled offshore wind power projects across Northern Europe.
Bard Offshore 1, a 400 MW German offshore wind farm, will not be operational until further notice, informs the Spiegel.
Siemens has announced that, as of 2015, it will revolutionize the offshore wind turbine service with its new service operation vessels (SOVs).
Vattenfall has awarded Siemens Energy an order for 72 Model SWT-4.0-130 wind turbines for its new Sandbank offshore wind farm.
Technip has decided to shut down its offshore wind division based in Westhill, Aberdeenshire, after all undergoing projects are completed.
A downturn in the German offshore wind industry could soon come to an end.
Siemens Power Generation Services, Wind Power & Renewables business has a new global CEO. Mark Albenze succeeds Tim Holt who is taking over new responsibilities within Siemens.
Siemens has installed two of its SWT-6.0-154 offshore wind turbines at an onshore site in Wehlens near Wilhelmshaven.
Image: eastcoastcharters