Marubeni and Technip to Build Neart na Gaoithe Offshore Wind Farm

Mainstream Renewable Power has appointed Marubeni and Technip Offshore Wind Limited (working in consortium) as the preferred supplier of balance of plant EPCI (Engineering, Procurement, Construction and Installation) services for the Neart na Gaoithe offshore wind farm.
Mainstream also announced today that Siemens is its preferred supplier of wind turbines, which will be sited in water depths of 48 – 54 metres.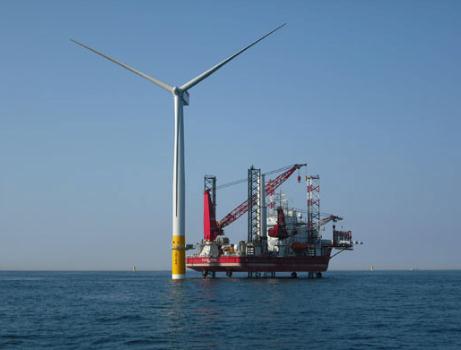 The 450MW Scottish offshore wind farm is located in the outer Firth of Forth, 15.5 kilometres from the coast of Fife at its closest point to land. The closest turbine will be 15.8 kilometres from the shore.
Commenting on the announcement, Mainstream's Offshore CEO and Executive Director, Andy Kinsella, said: "This is another significant step on the track to getting the Neart na Gaoithe wind farm to financial close this year. The next step will be the receipt of the offshore planning determination. Today's announcement is about gearing up the supply chain so that companies interested in supplying the project have visibility of the preferred contracting structure. I am delighted to be working with three world class companies who have a proven track record in delivering significant infrastructure projects across the globe." 
[mappress]
Source: Mainstream Renewable Power, February 19, 2014; Image: Seajacks