Electron Beam Welded Foundation to Debut at Dogger Bank in Late 2023
A collaboration between SSE Renewables, Sif Group, Cambridge Vacuum Engineering (CVE), and TWI, has resulted in the first-ever electron beam welded section to be incorporated in an offshore wind turbine monopile foundation.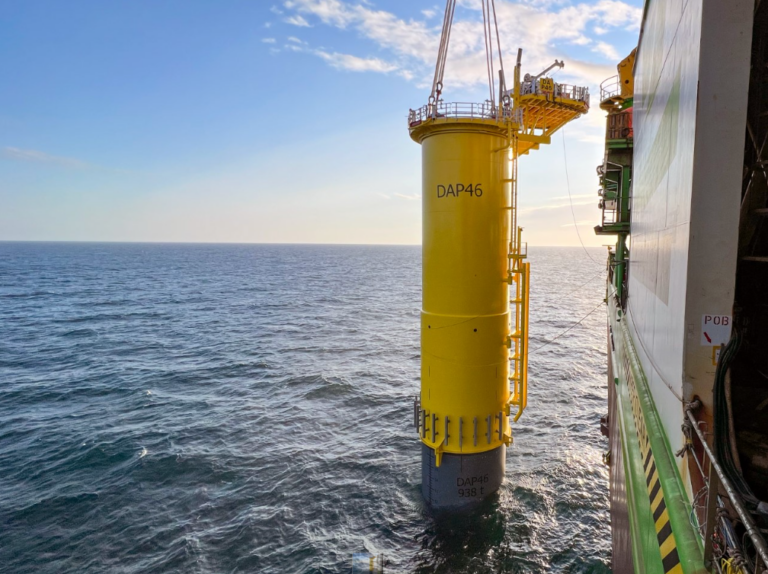 The resulting can was incorporated into a monopile transition piece in January 2023 and is scheduled to be installed offshore as part of a foundation in the second phase of Dogger Bank Wind Farm, located more than 130 kilometres off the Northeast coast of England, in late 2023.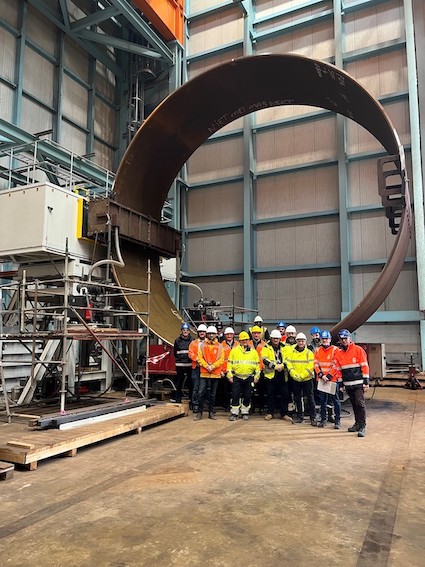 Monopiles are currently fabricated using conventional techniques such as submerged arc welding (SAW), but the consortium said that it has demonstrated that electron beam (EB) welding is significantly quicker, cheaper, cleaner, more energy efficient, and produces high-quality welds with excellent fatigue properties.
The type of electron beam welding technology used – called EbflowTM – is described as an innovative development within the electron beam welding industry.
Instead of welding inside a costly and size-limiting vacuum chamber, Ebflow uses a local vacuum system that creates and maintains a vacuum around only the seam that is being welded.
This technique is said to unleashe the potential to use EB welding on large structures, such as the biggest monopiles, while reducing costs and enhancing productivity.
The technology – developed by CVE – has been shown to weld monopiles at least 25 times faster than current methods, whilst using 90 per cent less energy, costing 88 per cent less, and producing 97 per cent less CO2 emissions than SAW methods, the partners said.
The project required installation of an Ebflow system at Sif's Maasvlakte 2 facility in Rotterdam to perform several longitudinal welds on 2750 mm length seams on 8-metre diameter rolled cans with a wall thickness of between 67-85 mm.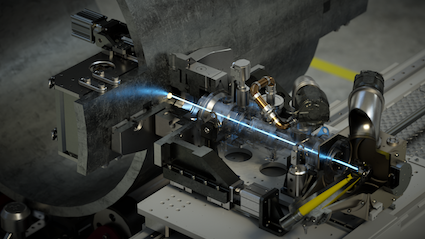 Qualification of the welding machine, weld procedures, and operators were witnessed by third-party inspectors and the regulatory body, DNV, which subsequently issued a technology qualification for EB welding and non-destructive testing (NDT) of the longitudinal seams produced with the process. The comprehensive performance testing programme proved that Ebflow produces welds with fatigue strength that is at least as good, if not better, than observed in equivalent arc welded joints, CVE said.
"This is a 'first-in-class' project, establishing this UK innovation as a world-leading technology. With monopile type foundations accounting for over 90% of foundations used in UK projects, Ebflow RPEB could realise significant cost savings on future projects," Olly Cass, SSE Renewables Project Director for Dogger Bank Wind Farm said.
"These substantial savings will not only benefit the UK offshore engineering industry but could be passed on to UK energy consumers. We're excited about what could be achieved by scaling up this method to pick up the pace as we work towards net zero targets."
Dogger Bank Wind Farm is a joint venture between SSE Renewables, Equinor, and Vårgrønn. The farm is being built in three 1.2 GW phases and is expected to start generating power this summer.

ADVERTISE ON OFFSHOREWIND.BIZ
Get in front of your target audience in one move! OffshoreWIND.biz is read by thousands of offshore wind professionals daily.
Follow offshoreWIND.biz on: