TenneT Awards EUR 23 Billion in Contracts for 22 GW of Offshore Wind Grid Connections in North Sea
The Dutch-German transmission system operator (TSO), TenneT, has signed multiyear agreements with three consortia for the delivery of eleven 2 GW grid connections in the North Sea that will connect German and Dutch offshore wind farms to their respective grids on land.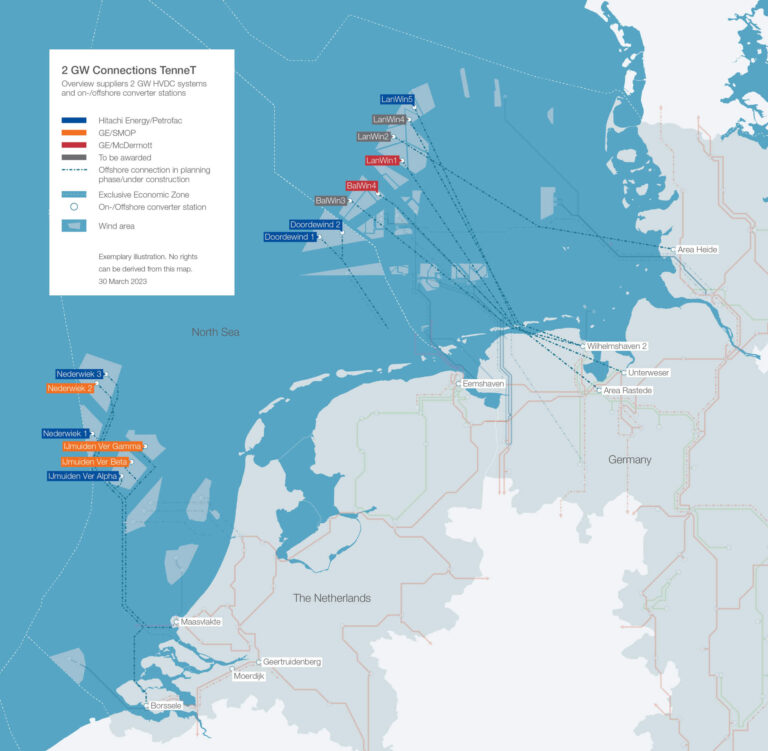 Under the eleven contracts – worth EUR 23 billion in total – Hitachi and Petrofac, GE and Sembcorp Marine Offshore Platforms (SMOP), and GE and McDermott will deliver offshore platforms and onshore substations, as well as their HVDC systems, to connect eight offshore wind farms in the Netherlands and three offshore wind farms in Germany until 2031.
The partnership between Hitachi and Petrofac has been awarded five Dutch projects that will be connected in Borssele (IJmuiden Ver Alpha, Nederwiek 1), Eemshaven (Doordewind 1 and Doordewind 2) and Geertruidenberg or Moerdijk (Nederwiek 3). The two companies will also realise the German connection LanWin5 that will be connected in Rastede.
GE and SMOP have been selected for three Dutch projects that will be connected in Maasvlakte, Rotterdam (IJmuiden Ver Beta, IJmuiden Ver Gamma and Nederwiek 2).
In partnership with McDermott, GE will also be responsible for the German projects BalWin4 and LanWin1 that will be connected in Unterweser.
The awarded companies will start preparatory work for the realisation of the projects with immediate effect to ensure that all projects can be delivered until 2031, TenneT said.
The TSO also said it expected that the offshore grid projects BalWin3, LanWin4 (both connecting to the onshore grid in Wilhemshaven) and LanWin2 (connecting in Heide) would soon be awarded.
TenneT started preparing for what the TSO said was a "large-scale" offshore tender to connect 40 GW of new offshore wind capacity in Germany and the Netherlands last year, with 15 to 20 grid connections expected to be built offshore the two countries.
In September 2022, the TSO also launched a tender for the grids' cable connections.
With 40 GW of new offshore grid connections, TenneT will account for almost two-thirds of the 65GW offshore wind energy target by 2030 agreed by Germany, the Netherlands, Denmark, and Belgium in the Esbjerg Declaration signed in May 2022. The TSO will build 20 GW in each of the German and Dutch sectors of the North Sea with its new 2 GW programme.

ADVERTISE ON OFFSHOREWIND.BIZ
Get in front of your target audience in one move! OffshoreWIND.biz is read by thousands of offshore wind professionals daily.