EEW Korea Cuts First Steel for Hai Long Pin Piles
Hai Long Offshore Wind Project and EEW Korea Heavy Pipe Construction (EEW KHPC) have held a ceremonial first cut of steel for pin piles fabrication for the offshore wind farms in Taiwan.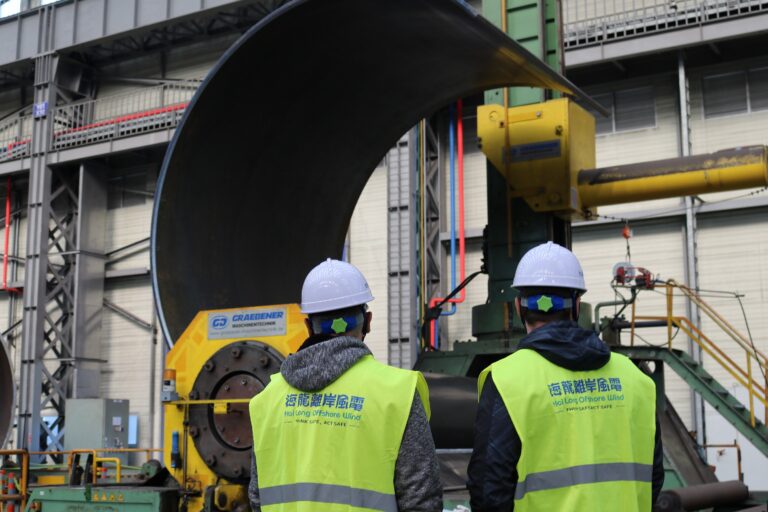 Hai Long and EEW KHPC signed a contract for pin piles fabrication in October 2022.
Under the contract, EEW KHPC will provide a total of 156 pin piles for the Hai Long 2B and 3 offshore wind projects, which have an installed capacity of 744 MW.
The pin piles will support the jacket foundations of the Siemens Gamesa SG 14-222 DD wind turbines.
"The first cut of steel on these pin piles fabrication marks another important milestone for Hai Long, showcasing the steady progress of the manufacturing phase. We look forward to a safe execution of this contract, and together with our trusted partners EEW KHPC. We are confident to bring the Hai Long Project into operation on quality, schedule, and budget", said Frank Spee, EPCI Director of Hai Long.
The jacket foundations will be supplied by Samkang M&T which signed a contract with Hai Long Offshore Wind, a consortium comprising Northland Power, Yushan Energy, and Japan's Mitsui & Co., in October last year.
The 1,044 MW Hai Long development will comprise two offshore wind farms that will be developed in three stages, with Hai Long 2 split into two phases: the 300 MW Hai Long 2a and the 232 MW Hai Long 2b. Hai Long 3 will have an installed capacity of 512 MW.
The construction of the offshore wind farms, located some 50 kilometres off the coast of Changhua county in water depths of between 35 and 55 metres, is expected to begin in 2024.
Planned to be fully commissioned in 2025, the Hai Long offshore wind project is expected to power 1.55 million households in Taiwan.
Follow offshoreWIND.biz on: